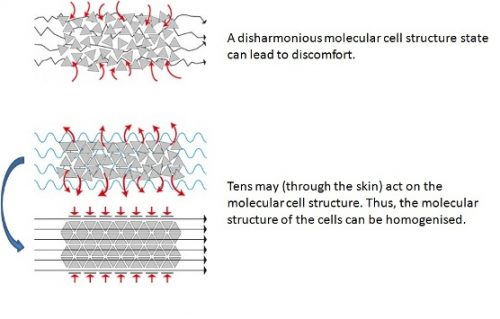 PowerTube Gold
$3,490.00
PowerTube Gold is plated with 24 carat gold to allow energetic transmissions of the purest and most effective nature.
Description
PowerTube® is the advanced TENS (Transcutaneous Electrical Nerve Stimulation) therapy unit developed by Swiss Engineer Martin Frischknecht (HTL Dipl. Eng.).
The Powertube TENS therapy devices are used worldwide with great success. Alternative healing and treatment methods are on the rise, and in strong demand. This is where the PowerTube delivers.
PowerTube is easy-to-use, battery-powered electronic device for transcutaneous nerve stimulation and pain therapy.
Relief from pain within minutes, this device can be safely used daily.
How does the Powertube work?
Many of the other Tens Devices are designed to destroy viruses in your body.
PowerTube has adopted a totally different approach by using three frequencies that homogenise molecular cell structure of blood. This improves the internal environment and detoxifies the body. Powertube does not eliminate any bacteria but reinforces your immune system so that your body on its own can fight against morbid bacteria, viruses etc. As a result the body's energy levels improve.
Hence Powertube via the use of the three frequencies results in the detoxification of the body and homogenisation of the molecular structure of blood which strongly enhances the human body's ability to heal itself.
The PowerTube Tens device works (through the skin) on the molecular water structure. The three fundamental frequencies with the corresponding harmonic series "vibrate" the water molecules within the mitochondria. Alternating current and frequencies corresponding to the water molecule make PowerTube a device different to others on the market.
The harmonious homogenisation of the molecular structure of blood is diagrammatically shown below: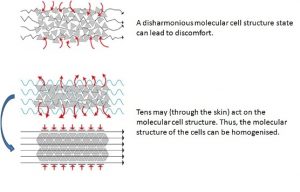 Used by integrative practitioners, dentists and doctors around the globe for pain relief, infection, cleansing of the body and optimising general health. Great for home use.
Water resistant soft case included.
Easy to clean with alcohol wipes.
TENS therapy device
For pain treatment
Treatment in 3 – 21 minutes
Fully automated program runs in 3 steps
24 Carat Gold plated for optimum hygiene and good contact
AC voltage, so no metal ions enter the body
Stable output voltages and frequencies
9-Volt Battery for independent operation
LED indicators for treatment times and therapeutic steps
Dimensions: length 18cm, diameter 3.1cm
Weight: 1,100g
Application class: BF class: IIa device
The Powertube is a hand-held therapeutic medical device for personal and therapist use. (Registration No. ARTG-140656).
TUV Certified CE 197
The PowerTube operates over three basic frequencies with corresponding overtones. It has been designed with a user interface/control panel that allows simple and easy application for the general public as well as health practitioners. The built-in microprocessor controls the treatment process automatically.
The PowerTube can be used directly through skin contact on local areas. This allows for shorter and continuous treatment times, which can be as low as three minutes.