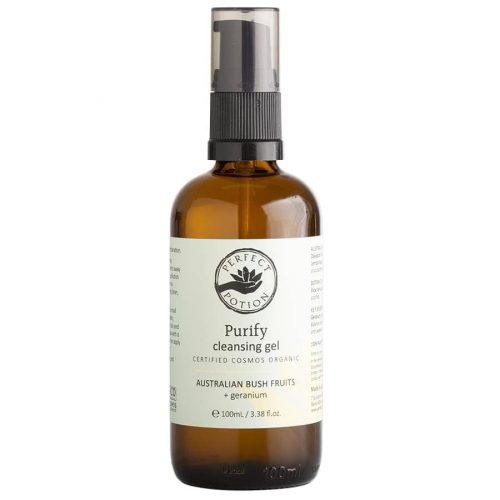 Purify Cleansing Gel
$37.95
Perfect Potion's Purify Cleansing Gel 100ml with Australian bush fruits and geranium
Certified COSMOS Organic
For oily and combination skin types.
Description
This purifying cleansing gel gently foams away excess oil, impurities, pollution and light-weight make-up leaving your skin feeling clean, fresh and vibrant.
Key Ingredients
AUSTRALIAN BUSH FRUITS + geranium
Australian Native Extracts
Davidson Plum: Anti-inflammatory and antioxidant. Protects against oxidative damage.
Quandong: Improves skin exfoliation. Encourages the synthesis of collagen and elastin. Draws moisture to the skin thereby improving hydration.
Lemon Aspen: Anti-inflammatory. Promotes skin healing. Anti-bacterial.
Botanical Actives
Aloe vera juice: Hydrating and soothing.
Key Essential Oils
Geranium: Balances oiliness.
Juniper: Purifies the skin.
Lavender: Skin soothing