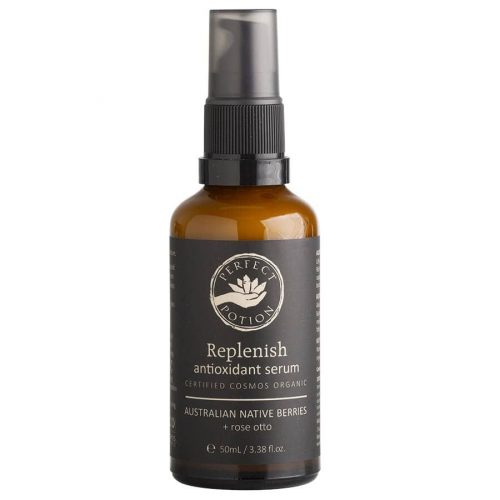 Replenish Antioxidant Serum
$69.95
Perfect Potion's Replenish Antioxidant Serium 50ml with Australian native berries and rose otto
Certified COSMOS Organic
For normal to dry, mature skin.
Description
This highly concentrated serum is readily absorbed by the skin boosting it with the potent anti-oxidants of Australian native botanicals. It recharges skin resilience, promotes firmness and protects against environmental aggressors. Skin feels replenished and radiant.
Key Ingredients
AUSTRALIAN NATIVE BERRIES + rose otto
Australian Native Extracts
Lilly pilly:Anti-inflammatory. Promotes collagen synthesis and skin repair. Improves skin hydration.
Emu apple:Anti-oxidant. 10 x more antioxidants than blue berries. Protects skin from free-radical damage. Boosts skin hydration.
Kakadu plum: World's highest source of vitamin C. Stimulates collagen synthesis. Reduces skin damage. Brightens and evens skin tone.
Botanical Actives
Aloe vera juice, Rosehip, Shea butter, Carrot. Hydrate, nourish and replenish with essential fatty acids and vitamins.
Key Essential Oils
Rose otto: Supports skin rejuvenation and lifts the senses.
A note for wheat and gluten sensitivities
This product contains ingredients derived from wheat. If you are wheat or gluten sensitive, we recommend doing a small patch test using our testers on your skin prior to purchase.