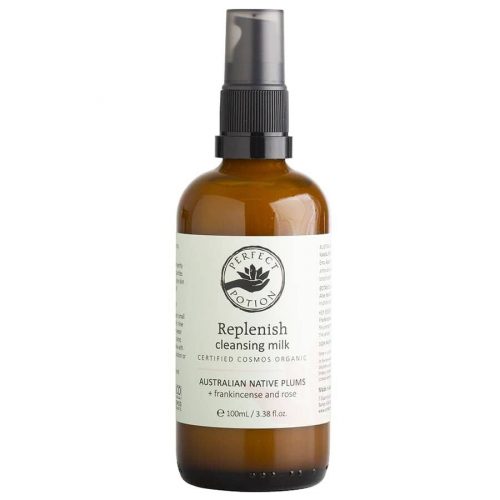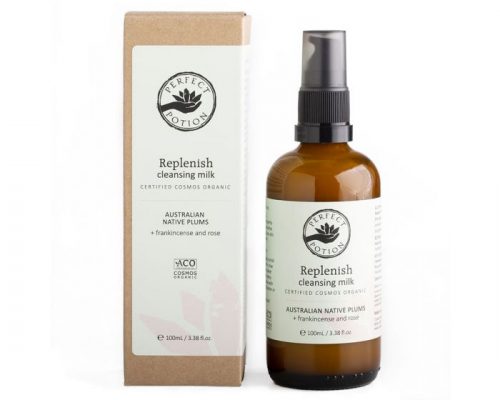 Replenish Cleansing Milk
$37.95
Perfect Potion's Replenish Cleansing Milk 100ml with Australian native plums, frankincense and rose
Certified COSMOS Organic
For normal to dry skin.
Description
This milky, water-soluble cleanser gently removes make-up, impurities and pollution leaving your skin feeling fresh, clean and comfortable. Suitable for use on all skin-types as a make-up remover. Second cleanse with a cleanser suitable for that skin type. Removes eye make-up.
Key Ingredients
AUSTRALIAN NATIVE PLUMS + frankincense and rose
Australian Native Extracts
Kakadu Plum: World's highest source of vitamin C. Stimulates collagen synthesis. Reduces skin damage. Brightens and evens skin tone.
Davidson Plum: Anti-inflammatory. Antioxidant. Reduces UV damage to skin.
Emu Apple: Anti-oxidant. 10 x more antioxidants than blueberries. Protects skin from free-radical damage. Boosts skin hydration.
Botanical Actives
Aloe vera: Hydrating, calming.
Jojoba oil: Improves skin softness and suppleness.
Key Essential Oils
Frankincense, rose, patchouli: Rejuvenate the skin, encourage skin repair and elevate the senses.