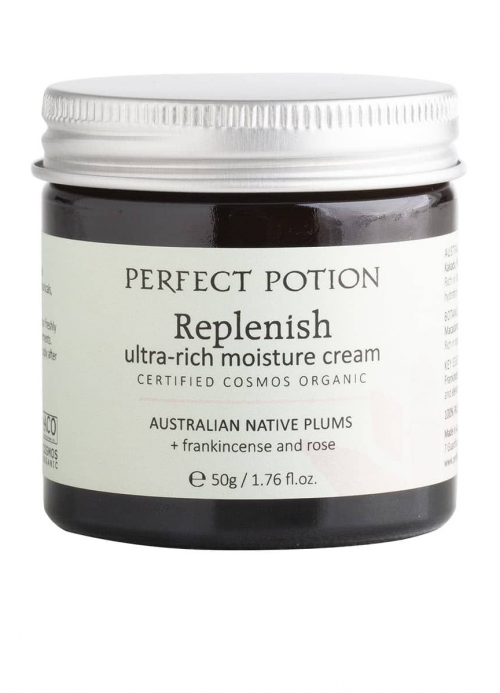 Replenish Ultra-Rich Moisture Cream
$54.95
Perfect Potion's Replenish ultra-rich moisture cream with Australian native plums, Frankincense & Rose
Certified COSMOS Organic
For dry and mature skin. Deeply moisturises, replenishes and rejuvenates the skin
Description
This ultra-rich cream deeply replenishes and rejuvenates the skin with bioactive Australian native botanicals, nourishing essential fatty acids and pure essential oils. May be used morning and evening. Especially suitable as a rich, nourishing night cream. Especially suited to cold, dry climates.
Key Ingredients
AUSTRALIAN NATIVE PLUMS + frankincense and rose
Australian Native Extracts
Kakadu Plum: World's highest source of vitamin C. Stimulates collagen synthesis. Reduces skin damage. Brightens and evens skin tone.
Davidson Plum: Anti-inflammatory. Antioxidant. Reduces UV damage to skin.
Emu Apple: Anti-oxidant. 10 x more antioxidants than blueberries. Protects skin from free-radical damage. Boosts skin hydration.
Botanical Actives
Macadamia, Avocado, Carrot, Calendula, Vitamin E: Rich in nourishing and replenishing essential fatty acids and antioxidants. Soften, smooth and improve skin suppleness. Reduce and prevent skin dryness.
Key Essential Oils
Frankincense, rose, patchouli: Rejuvenate the skin, encourage skin repair and elevate the senses.