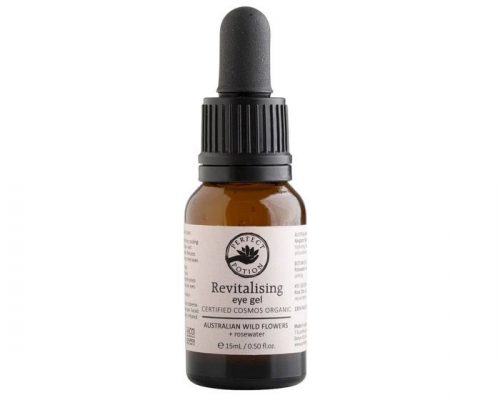 Revitalising Eye Gel
$44.95
Perfect Potion's Revitalising Eye Gel 15ml with Australian wild flowers and rosewater
Certified COSMOS Organic
For all skin types.
Description
A cooling, hydrating eye gel with Australian wild flowers and rosewater. Reduces puffiness and refreshes tired eyes.
Key Ingredients
AUSTRALIAN WILD FLOWERS + rosewater
Australian Native Extracts
Kangaroo paw: Activates fibroblasts. Stimulates collagen and elastin synthesis. Improves skin firmness. Hydrates and cools the skin.
Banksia: Anti-inflammatory. Anti-oxidant. Supports collagen health.
Flame tree: Anti-inflammatory. Potent anti-oxidant, Improves skin hydration.
Botanical Actives
Rosewater: Hydrates, cools and calms.
Key Essential Oils
Rose otto: Supports skin rejuvenation and lifts the senses.