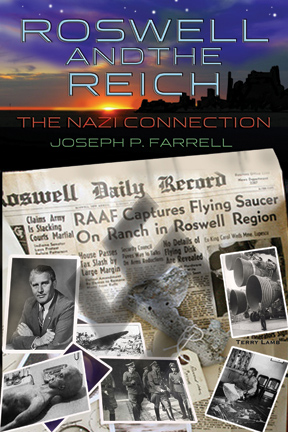 Roswell and the Reich (Digital)
$16.50
The Nazi Connection by Joseph P. Farrell (EBOOK)
Description
In this Ebook, Farrell delves ever deeper into the activities of the Third Reich. In his previous works, Farrell has clearly demonstrated that the Nazis were clandestinely developing new and amazing technologies toward the end of WWII, and that the key scientists involved in these experiments were exported to the Allied countries at the end of the conflict, mainly the United States, in a move called Operation Paperclip.
NASA director and developer of the Saturn V rocket that sent Americans to the moon, Werner von Braun, was one of these scientists. Farrell has traced the links between ongoing Reich activities and the newly-formed CIA and other defense/ military/ industrial establishments.
Now, Farrell has meticulously reviewed the best-known Roswell research from UFO-ET advocates and skeptics alike, as well as some little-known source material, and comes to a radically different scenario of what happened in Roswell, New Mexico in July 1947, and why the US military has continued to cover it up to this day.
Farrell presents a fascinating case sure to disturb both ET believers and disbelievers, namely, that what crashed may have been representative of an independent postwar Nazi power—an extraterritorial Reich monitoring its old enemy, America, and the continuing development of the very technologies confiscated from Germany at the end of the War.