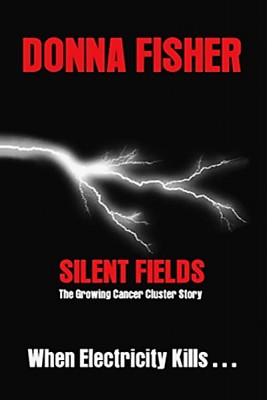 Silent Fields
$30.00
by Donna Fisher (paperback)
Description
While this fascinating book has many stories folding and unfolding throughout its pages—some are profoundly moving, highly emotional, others dry, legalistic and intriguing—it has but one powerful, overriding and urgent message:
People are being killed and some becoming very sick as clusters of cancer appear in Australia and many other parts of the world caused by Electromagnetic Radiation—Silent Fields in small but lethal doses.
It is hard to believe that the common use of electricity, up to now, part of the march of civilization and an integral part of our lives can kill. It need not be so insists Donna Fisher if proper scientific measurements are made of just when electricity becomes "dirty" and causes sickness and death. It is so that there is now more than just a tenuous link that breast cancer as well as childhood leukaemia can be caused by Electromagnetic Radiation in small doses. Donna Fisher at once informs us about the growing cancer cluster story and challenges us to confront certain authorities playing with the lives of people. This cancer cluster cover-up may well become the single biggest cover-up since the cigarette companies spent billions to deny that smoking was linked to cancer, denying even that it had a tenuous link to the disease.
Read the exciting account of the author and her neighbours in the Queensland suburb of Tanah Merah who without much technical, medical and legal experience did battle with the large public company, Energex to stop them from building an electricity sub-station in their street which they felt would be unsafe. The breast cancer cluster at the Australian Broadcasting Commission's Toowong TV Studios—which has supposedly left the experts baffled yet again—has prompted the author to explain why situations such as this are occurring worldwide.
Follow this courageous band of dedicated and committed people through red-tape, bureaucracy, disinterested politicians and the Courts as they challenge the biggest corporation in town in a quest to save lives. The landmark court case and what Donna has brought to our awareness about the dangers of Electromagnetic Radiation exposes an attitude which may reveal one of the biggest scandals in Australia.