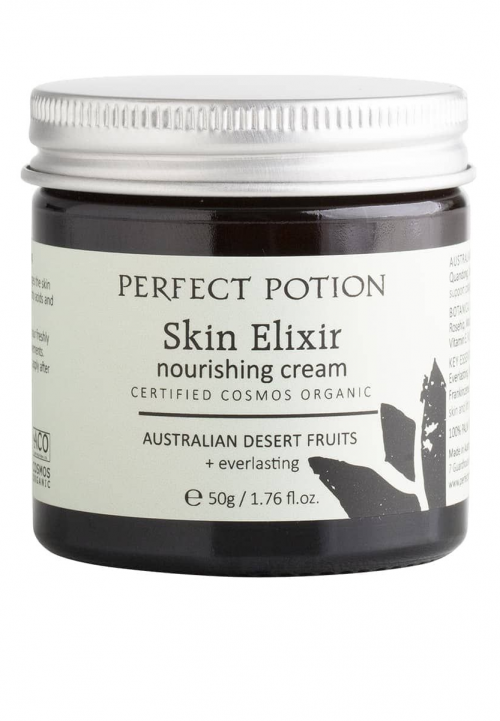 Skin Elixir Nourishing Cream
$64.95
Perfect Potion's Skin Elixir nourishing cream50mL
For dry and mature skin. Nourishes and replenishes moisture levels with everlasting, rose, shea and rosehip.
Description
This ultra-rich moisture cream nourishes your skin with revitalising nutrients restoring its natural health and radiance. It replenishes moisture levels and leaves your skin feeling soft, smooth and velvety. A precious elixir of pure essential oils – everlasting, rose, neroli, lavender, chamomile, frankincense and patchouli lift your spirits and enhance healthy skin rejuvenation. Rosehip, wheatgerm, carrot and calendula oils enrich your skin with nourishing essential fatty acids and vitamins while shea butter softens and protects. Plant-derived sodium hyaluronate ensures your skin's hydration levels are replenished and maintained.
An ultra-rich cream
Nourishes and revitalises your skin.
Leaves skin feeling soft, smooth and velvety.
Restores your skin's natural radiance.
How to use
Use as your daily moisturiser or in the evening as a restorative night cream. Apply a small quantity to freshly cleansed skin. Gently massage into your face, neck and décolletage using upward movements, then press into your skin to aid absorption. For best results, apply after hydrating your skin with Replenish Fine Tuning Solution.
A note for wheat and gluten sensitivities
This product contains wheat germ oil. If you are wheat or gluten sensitive, we recommend doing a small patch test using our testers on your skin prior to purchase.