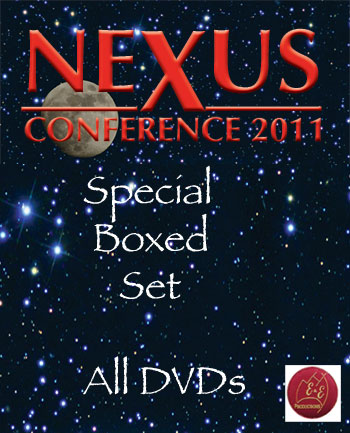 Special Boxed Set – NEXUS Conference 2011
$279.00
All 15 conference DVDs from the 2011 NEXUS Conference.
For UK/Europe orders, call NEXUS UK on 01342 322854.
Description
Special Boxed Set
This set includes all 15 presentations from the 2011 NEXUS Conference in a boxed DVD set.
Presentations include:
1.  Dangers of Dirty Electricity and EM Fields, with David Stetzer.   Co-inventor of RF meters and filters shows how to detect and neutralise HF voltage transients and EMFs.
2.  Remote Viewing and Luck Cycles, with James F. Coyle.  Beyond Belief author on secrets of mind power, out-of-body states and luck cycles.
3.  ESP, Mind Control & Alchemy, with Richard Alan Miller.  Physicist and alchemist expands on ESP, mind control and agriculture for a new age.
4.  Time-Travelling ETs, with Linda Moulton Howe.  Earthfiles website editor on UFO cover-ups, ET time travellers seeking our DNA, and self-activating symbols and machines.
5.  UFO Mystery in Melbourne, with Shane Ryan.  Presents his film Westall '66, about a UFO mass sighting and the ensuing official cover-up.
6.  New Scientific Renaissance, with Professor Robert Pope.  Hails a new era of fractal life-science that's our survival blueprint into the future.
7.  Sacred Geometry and Consciousness, with Jonathan Quintin.  Artist/cosmologist shows how sacred geometry can attune us to the harmony of the universal order.
8.  Space Weapons Treaty, with Dr Carol Rosin.  Skype presentation, including NEXUS Editor, on a treaty to ban space-based weapons and plans to link with cosmic cultures.
9.  Life After Death, with Barry Eaton.  Radio presenter, psychic and Afterlife author tackles life after death, life before life and past-life recall.
10.  Natural Solutions for Weight Loss, with Sherrill Sellman, ND.  Naturopathic doctor on hormone and metabolism balancing in weight loss.
11.  The Assault on Our Health Freedom, with Meryl Dorey.  AVN founder on governments and vested interests eroding our freedom in alternative health and vaccination.
12.  Prophecies of Benjamín Parravicini, with Flor Amanowicz.  Psychic intuitive presents spiritual messages from an Argentinian seer.
13.  Cosmic Coincidences and 2012, with Pane Andov.  Computer scientist turned yogi prepares us for the end of a Great Cycle in 2012.
14. Conversations with Aliens, with Alec Newald.  CoEvolution author reveals significant new details which his ET hosts say can be released now.
15.  CHANI Project and Spiritual Awakening, with Duncan Roads (in lieu of "Acolyte").  NEXUS Editor summarises the work of an insider on CHANI predictions and BEZERK links.