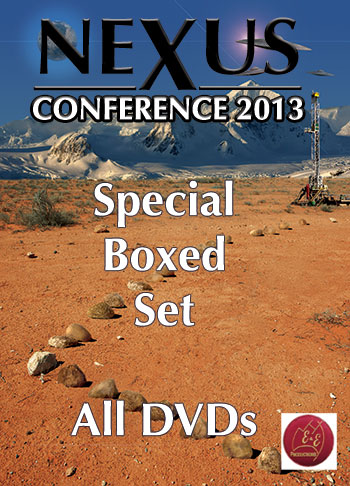 Special Boxed Set – NEXUS Conference 2013
$279.00
All 13 conference DVDs from the 2013 NEXUS Conference. Available in PAL format only. Should work on all computers and more modern DVD players which have both NTSC and PAL capability.
For UK/Europe orders, call NEXUS UK on 01342 322854.
Description
Special Boxed Set
This set includes all 13 presentations plus Highlights from the 2013 NEXUS Conference in a boxed DVD set.
Presentations include:
1.  Medicinal and Industrial Uses of Hemp, with Susanna Wilkerson. A naturopath and industrial hemp grower since 2002, Susanna expands on how hemp offers eco-sound solutions in building and farming and has amazing health benefits.
2.  Smart Meters, Wi-Fi, Cellphones and EMF, with Dr Don Maisch. An independent investigator into the effects of EMF, Don highlights the latest environmental and health concerns from the increasing use of smart meters, Wi-Fi, mobile phone towers and cellphones.
3.  Life Beyond Death, with Dannion Brinkley. A survivor of near-death experiences and author of Saved by the Light and At Peace in the Light, Dannion reveals what happens when we "die".
4.  Communicating with Animals, with Trisha McCagh. Internationally acclaimed as a teacher and an animal communicator, Trisha is the author of Stories from the Animal Whisperer.
5.  Secret Nazi Technology after WWII, with Douglas Dietrich. A former US Marine and military librarian for the Department of Defense, Douglas uncovers a very different picture of World War II, the secret technology used in the conflict and the aftermath of hostilities.
6.  Magnesium—the "Mother" Mineral, with Sandy Sanderson. After a hectic publishing career, Sandy had a health crisis which led to her discovery of the importance of magnesium in the body.
7.  The Atacama Humanoid and Disclosure Update, with Dr Steven Greer. Founder of the Center for the Study of Extraterrestrial Intelligence and The Disclosure Project, Steven updates us on UFO developments.
8.  Hostile UFOs over the Pacific, with Gordon Duff. A senior editor at US website Veterans Today, Gordon reflects on his exposure to Majestic documents and UFO-related events.
9.  Children's Contact with ETs, with Mary Rodwell. A former nurse and co-founder of the Australian Close Encounters Resource Network, Mary recounts some extraordinary cases documenting ongoing conscious contact between children and aliens.
10.   Sacred Mathematics, Geometry and Symbology, with Jonathan Quintin. A multimedia artist and cosmologist, Jonathan demonstrates via breathtaking imagery the links between sacred geometry and architecture, resonant fields and states of consciousness.
11.  Subtle Technology Reveals Nonphysical Entities, with Dr Harry Oldfield. A scientist and inventor, Harry explains how his technology enables visualisation of nonphysical life-forms and can also effect healing.
12.  Mind Control via Modified
Plants and Foods, with Dr Richard Alan Miller. A physicist, former "deep black" scientist and botanical herbalist, Rick exposes how the mind is being targeted through the gut via GM foods and also suggests what we can do about it.
13.  A New History of Mankind, with Duncan Roads. The editor/publisher of NEXUS, Duncan draws upon decades of research in presenting his assessment of who "we" are and where we are going.
14. Summary Highlights of the 2013 NEXUS Conference (approximately five minutes of each presentation).