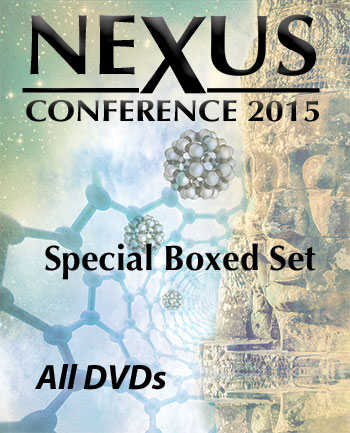 Special Boxed Set – NEXUS Conference 2015
$279.00
All 14 conference DVDs plus highlights from the 2015 NEXUS Conference. Available in either PAL or NTSC format.
To download or watch a selection of these presentations online, follow this link…
For UK/Europe orders, call NEXUS UK on 01342 322854.
Description
Special Boxed Set
This set includes all 14 presentations plus Highlights from the 2015 NEXUS Conference in a boxed DVD set.
Presentations include:
Erich von Däniken (Switzerland)
Chariots of the Gods? bestselling author and popular ancient mysteries researcher Erich von Däniken on whether the gods of antiquity were in fact astronauts.
David Hatcher Childress (USA)
Prolific author and adventurer David Hatcher Childress shared his knowledge on ancient mysteries and megaliths. David has written more than 20 books on our mysterious past, has appeared on numerous television specials and co-stars on The History Channel's Ancient Aliens.
Donna Fisher (Australia)
EMF researcher, previous NEXUS Conference presenter and Light That Heals author Donna Fisher presented her latest findings at this year's conference.
Steven & Evan Strong (Australia)
Father and son team Steven and Evan have rediscovered a hidden history of Australia.  In their five books they have worked with Indigenous Elders to prove through scientific fact that which the Elders insist is true.
Dr Kathy J. Forti (USA)
Since experiencing a near-death experience in 2003, it became a magnificent obsession for Dr Forti to research and compile information on quantum physics, cellular regeneration, and many other related fields. All the while, she felt guided and directed every step of the way.  Dr Forti also spoke at the 2010 NEXUS Conference.
Dr Andrew Katelaris (Australia)
When asked in a recent interview if he worried about what the wider medical establishment would think of what he is supporting, medical marijuana advocate Andrew Katelaris replied "Well, they should worry more about what I think of them. I mean, it's been a very sad journey having very valid and very exciting scientific work being either ignored or denigrated or obfuscated by the medical profession".  Andrew's presentation included the latest science on medicinal marijuana and the current politics in Australia.
Mary Rodwell (Australia)
Mary last spoke at our Conference in 2013. Her new group recently circulated a questionnaire/survey of ET contact experiencers and this year she presented their findings.  Her presentation also included an interview with astronaut Edgar Mitchell.
Peter Smith (Australia)
Following a decade of work with the Michael Newton Institute for Life Between Lives, Peter founded the Institute for Quantum Consciousness to commence research into the blending of some core principles of quantum physics with expanded states of awareness. Peter shared his latest research into the Expanding Realms of Consciousness model, including alternate realities and parallel lives, as well as some of the collective research from Dr Newton's original work with the superconscious soul state.
Wolfgang Flatow (Australia)
Solar and Alternative Energy Researcher and Inventor since the mid 70s, Wolfgang Flatow explores our potential solar future which he sees only a stone's throw away. He is an independent solar energy consultant with Hybrid Sunshine and has launched his own solar robotic barge solution to oceanic plastic pollution. Solar and alternative energy does more than just replace crude fossil and nuclear energy sources—it is an enabling technology (in the same way it enables satellite communications). He also shows how we can benefit from greater engagement with and understanding of solar power using his online Solar Energy Simulator.
Karen Mutton (Australia)
Karen gave us the update us on bail-ins and pension confiscation, the Global Currency Reset, derivatives threat and cyber threats to our banks.  Karen spoke about how safe our deposits are in our private accounts and presented new developments in relation to negative interest on savings. Karen frequently updates NEXUS readers on the global financial situation and last spoke at the 2014 NEXUS Conference.
Robert Lawlor (Australia)
Author Robert Lawlor's presentation covered sacred geometry and the future. His latest work "The Geometry of the End of Time" explores the geometric and prophetic patterns which emerge from integrating the three major ancient cycles of time.
Paul Seils (Australia)
Paul describes himself as a "Digital Gypsy" in heart, soul and life and his presentation "Big Brother – Out of Control: Reality Check & Remedy" included special guest Sacha Stone (New Earth Nation & ITNJ via video). Paul shared his journey around his Middle East experience, Metadata, Occupy movement, the TPP (Trans-Pacific Partnership), Global surveillance and lsharing with those seeking Remedy.
Steve Parker (Australia)
The House that Hack Built: how smart devices can be turned against us.  Steve enlightened us on smart TVs, smart refrigerators and smart toasters and how the embedded tech in your house has the potential for Orwellian-style surveillance.
Duncan Roads
NEXUS Editor/Publisher and Alternative News Project founder's presentation included a big-picture assessment of where we are at, and where we are going.
Summary highlights of the 2015 NEXUS Conference (approximately five minutes of each presentation).