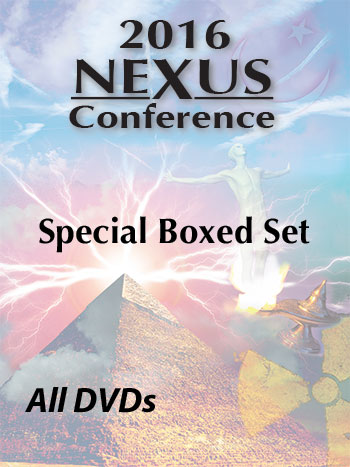 Special Boxed Set – NEXUS Conference 2016
$279.00
All 13 DVDs from the 2016 NEXUS Conference. Available in either PAL or NTSC format.
For UK/Europe orders, call NEXUS UK on 01342 322854.
Description
Special Boxed Set
This set includes all 13 presentations from the 2016 NEXUS Conference in a boxed DVD set.
Presentations include:
Don Chisholm
Gut Health: New Research and New Cures for Disease
Mark Langdon
Scalar Energy and Electromagnetic Protection
Narada Firebird Vantari & Pratima Mumford-Sephton
Indonesian Ancient Mystery Sites
Hugh Newman (Skype)
Giants: The Suppression of Reports and Evidence
Jon Rappoport (Skype)
Medical Dictatorship: The Ultimate Agenda of the Medical Police State
Dr Michael Salla (Skype)
Parallel and Secret Space Civilisations
David Paulides
Missing Persons Conspiracy: The Cover-Up of Numbers and Causes
David Paulides continued, then Duncan Roads
Missing Persons Q&A followed by Overview of Artificial Intelligence and "Black Goo"
David Griffin then Alec Newald
Artificial Intelligence and "Black Goo"—Terraforming or Terrifying?
Brendan Murphy
DNA Activation as a Way of Accelerating our Evolution and Awakening
Karen Ong
UFOs and Disinformation—the "Be Witness" Fallout
Steve Parker
Medicinal Cannabis and Big Pharma in Australia
Peter Smith
The Afterlife, Interdimensional Existences and Alternate Realities
To download or stream the 2016 NEXUS Conference, follow this link.