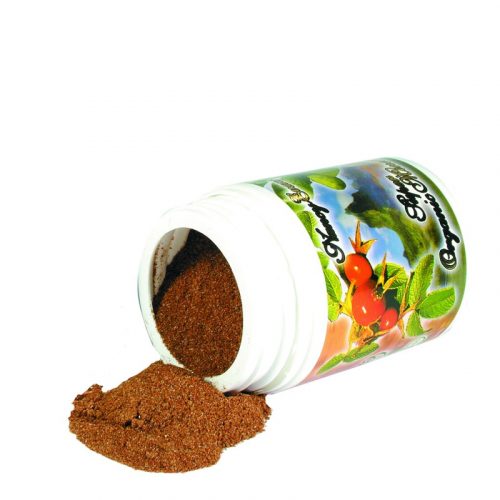 Super Organic Minerals
$48.00
Nancy Evans' Super Organic Minerals 150g is a very important supplement, which is rich in organic vitamins, minerals, enzymes and antioxidants, that should be taken daily.
Description
We use only the purest ingredients, including rosehip powder and organic noni powder.
Super Organic Minerals contains Organic Rosehip Powder which is full of Vitamin C. According to Dr John Whitman Ray N.D., M.D. (M.A.) – Humans require dietary natural vitamin C for maintenance of health. Some of the benefits of the Organic Rosehip Powder:
Aids in oxidation reduction systems which aids in increasing the rate of metabolism of Cholesterol in the blood and strengthens blood vessels.
Great for activating the immune system and aids in the destruction of invading harmful bacteria
Assists the healing process of cuts, abrasions, burns, wounds and fractured bones.
Helpful in blocking free radicals.
Makes it difficult for viruses, bacteria and parasites to thrive since these can only be maintained in tissue of lowered electric potential.
Assists in the formation and maintenance of cartilage, teeth and bone.
Super Organic Minerals contains Methyl Sulfonyl Methane (MSM). People with arthritis report substantial and long-lasting relief while supplementing MSM in their diet in daily amounts from 1000 to 5000 mg. The beneficial effect is due to the ability of MSM to sustain cell flow-through, allowing harmful substances to flow out while permitting nutrients to flow in, preventing pressure build up in cells that causes inflammation in the joints and elsewhere, which translates to pain.
Super Organic Minerals contains Organic Tahiti Queen Noni Powder: Tahiti Queen Noni grows in a unique tropical volcanic soil and is a natural source of nutrients and anti­oxidants. Athletes and people under stress or low in vitality may safely increase their consumption.
For better well-being and vitality
Helps to temporarily relieve pain
Assists the body to absorb nutrients.
Great to help relieve tired, sore eyes and ear aches
Calms the mind and body
Super Organic Minerals, especially at the change of seasons, is quick relief of the symptoms of common allergies.
Benefits of the Super Organic Minerals:
Increases vitality
Rich in Vitamin C and strengthens the immune system to provide quick relief to common allergies
Reduces inflammation and promotes joint health
Aids in the detoxification process, calming your mind and body
Assists in the maintenance of teeth and bone health
A natural source of nutrients, enzymes and antioxidants
Beneficial for general health maintenance
Directions: Mix 1/2-1 teaspoon with pure water or fruit juice, and take twice daily before meals.
Ingredients: Organic rosehip vitamin C; organic noni fruit extract; organic MSM (methyl sulfonyl methane) which is plant derived.
Disclaimer: Before using, people with existing health conditions and those taking prescription medications should consult with their health practitioner. This product is not intended to diagnose, treat, cure, or prevent any disease. If undesirable symptoms persist, see your health practitioner.