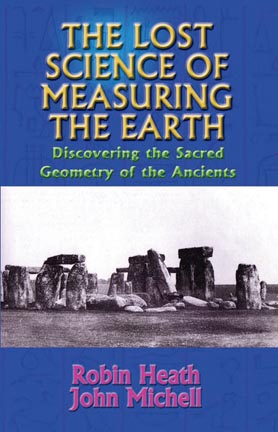 The Lost Science of Measuring the Earth
$25.00
Discovering the Sacred Geometry of the Ancients by Robin Heath and John Michell (paperback)
Description
Precision Geodetic Science — from the Stone Age!! Two of the most experienced researchers into prehistoric culture have made a remarkable breakthrough in understanding the system by which prehistoric monuments were designed and placed on the landscape.
This system, a precision geodetic science, enabled the megalith builders to mark out vast geometric shapes across the landscape. At key points, they erected their magnificent stone temples and markers, whose dimensions and locations encoded their knowledge of the Earth and sky. Long trackways, stone rows, stone circles, standing stones and huge earthworks–monuments dating back well over four thousand years–have held on to their secrets despite centuries of investigation. Now, Michell and Heath show that: prehistoric Britons knew the dimensions of the Earth and had undertaken an accurate survey of the British Isles, pre-3000 BC; the major time periods of the Sun and Moon were encoded within their monuments, measures and system of land surveying; this prehistoric system was still being applied in the Middle Ages, and remnants survive today.
Chapters include: The Art of Surveying the Landscape; Measuring the World; Measurement and the Moon; Stonehenge & the Lunation Triangle; The Preseli Triangle; Prehistoric Precision — A Summary; Stonehenge Revelations; The Numbers that Measure the Earth; Traditions of Ancient Surveyors in Britain; Secrets of the 52nd Parallel; Dates and Speculations and more.