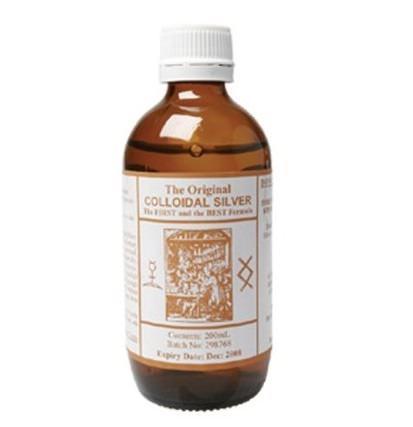 The Original Colloidal Silver
$34.95
The Original Colloidal Silver 200ml
The first and very best formula
Description
The Original Colloidal Silver is the result of an electro-magnetic process that pulls microscopic particles (.001-.005 micron) from a rod of silver into a liquid. These particles are suspended by a 21st century hi-tech electrolysis method in distilled rainwater using the Swiss 'Grander Living Waters' method as a carrier. These microscopic particles can more easily penetrate and travel throughout the body.
Original Colloidal Silver is a natural powerful, prophylactic, germicide and antibiotic with no proven side effects. Around the world it has been reported to be effective on over 650 diseases. It has been found to be both a remedy and a prevention for colds, flu, all infections, all fermentation due to any bacteria, fungi or virus, especially Golden Staph, and Strep, which are commonly found in hospitals. Colloidal Silver has been clinically tested and medically proven to rapidly subdue inflammation and promote faster healing.
The body uses Colloidal silver to fight disease-causing organisms and to aid healing. Pharmaceutical antibiotics eradicate on average, 6 different disease organisms. But in doing so mutate antibiotic resistant bacterial side-effects that are worse than the original cause, but Original Colloidal Silver is known and proven to work without any harmful side effects or toxicity.
Specifications:
Contains Silver 5pp/M.
Serving suggestion: 1ml as required.
Ingredients:
Natural Silver Mineral Suspended In Distilled Mountain Rainwater.