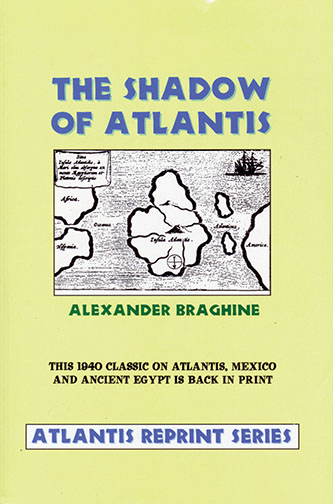 The Shadow Of Atlantis
by Alexander Braghine (paperback)
Description
First published in 1940, this book is one of the great classics of Atlantis research. "The Shadow of Atlantis" amasses a great deal of archaeological, anthropological, historical and scientific evidence in support of a lost continent in the Atlantic Ocean.
Braghine covers such diverse topics as Egyptians in Central America, the myth of Quetzalcoatl, the Basque language and its connection with Atlantis, the connections with the ancient pyramids of Mexico, Egypt and Atlantis, the sudden demise of mammoths, legends of giants and much more.
Braghine was a linguist and spends part of the book tracing ancient languages to Atlantis and studying little-known inscriptions in Brazil, deluge myths and the connections between ancient languages. Braghine takes us on a fascinating journey through space and time in search of Atlantis.