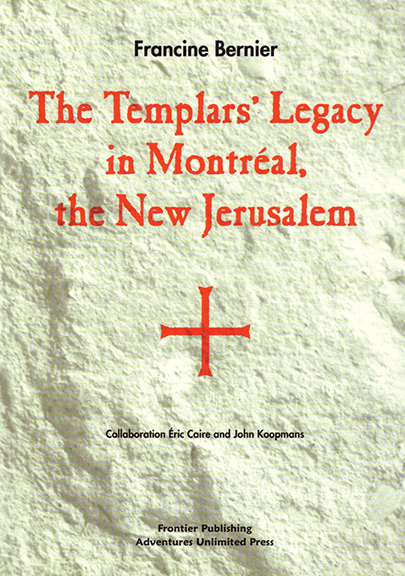 The Templars' Legacy in Montréal, The New Jerusalem
$26.00
Francine Bernier set out on a quest in the late 1980s to get to know the esoteric side of her home town, Montréal, in Québec, Canada, and eventually uncovered some of the secrets behind the foundation of this key French city in the New World. (paperback)
Description
Francine discovered that the island of Montréal had been designed in the 17th century as the New Jerusalem of the Christian world, and that it had become the centre for a group of mystics who wanted to live as part of a flawless Primitive Church of Jesus which could not be tolerated in their old world.
Bernier's research revealed that the elite behind this New World push were members of the Société de Notre-Dame de Montréal, some of whom belonged to an even more exclusive group, the Compagnie du Saint-Sacrement. These mystics were compared to the apostles of Jesus and to the original Templar and Hospitaller soldier-monks of the first Crusades, working as they did for the greater social good and for an ideal Christian way of living. And as with the ancient Essenes, the men and women of this apostolic sect had gender equality.
They were on a righteous mission to spread their doctrine from the old to the new world, creating a "New France" with Montréal as the promised biblical centre.
Their claims included a link with their patron saint, John the Baptist, with Melchizedek, the king-priest figure important to both the Essenes and Templars, with Stella Maris, the Star of the Sea from Mount Carmel, and with St Blaise, the patron saint of stonemasons as well as a key figure to the Benedictine Order and the Templars.
Coded into the architecture were themes alluding to the Temple of Solomon and the mystery of Rennes-le-Château in France. In decoding Montréal's street names among other key signposts, Bernier enlightens us to a rich secret history, which she supports with solid documentation. As Francine attests, it's remarkable what you can find out about a place you've taken for granted.