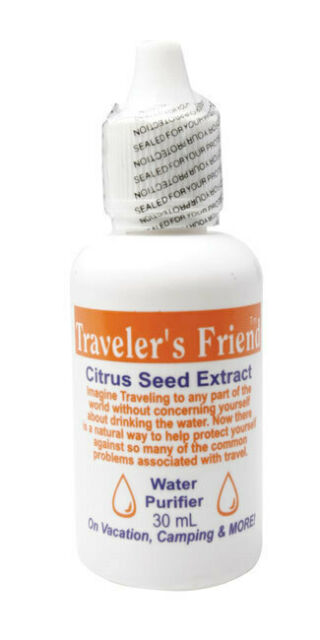 Traveler's Friend – Citrus Seed Extract
$28.00
Traveler's Friend Citrus Seed Extract – Water Purifier 30ml
Imagine traveling to any part of the world without concerning yourself about drinking the water. Now there is a natural way to help protect yourself against so many of the common problems associated with travel.
Take on vacation, Camping and any trips away!
Description
Nutribiotic Traveler's Friend is an all-natural water purifier that's safe and non-toxic, formulated using grapefruit seed extract. It's extremely versatile and can be used to treat one glass of water or up to 10 litres.
Now you travel the world and purify your water on the go. Perfect for camping, boating, fishing and when you travel to places where the food and drinking water may not be safe.
Directions: 3-5 drops in a 250ml glass of water or 10 drops in 1 litre. Allow treated water to stand for about 10 minutes.
Ingredients: Citrus Grandis Fruit Extract, Glycerin, Ascorbic Acid.