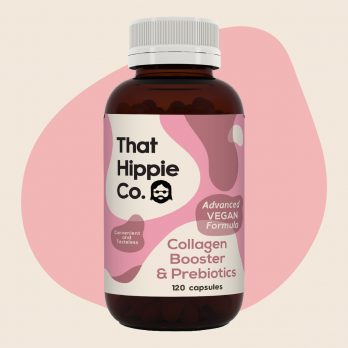 Vegan Collagen Booster & Prebiotics
$29.95
That Hippie Co.'s advanced Vegan formula Collagen Booster & Prebiotics 120 capsules – convenient and tasteless
Description
Collagen is key to supporting your skin health and assisting cell renewal. It's a completely tasteless and convenient way to achieve smoother and more radiant looking skin, whilst taking care of your gut health.
Our advanced vegan collagen formula is derived from whole food sources, which means everyone can get the natural collagen boost they need to keep the good vibes flowing.
Better still, the prebiotics from inulin in the capsules feed the good gut bacteria to support the skin from the inside-out.