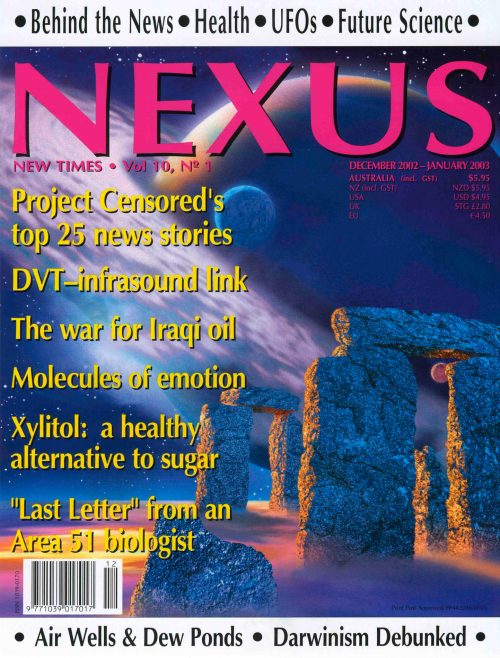 Volume 10, Number 1 – downloadable
$6.60
Volume 10, Number 1 complete issue downloadable pdf file.
Description
LETTERS TO THE EDITOR
Comments from readers on NEXUS-related topics.
GLOBAL NEWS
News you may have missed, including the US military's proposed space-control strategy, the launch of an implantable personal ID chip, and EU laws restricting access to health supplements.
PROJECT CENSORED's TOP 25 NEWS STORIES
From the Project Censored team. The most important yet least reported news stories in the US corporate media in 2001-02 include the long-time links between the Bush and bin Laden families, the appointment of criminals to key US government roles, and global privatisation under the GATS.
THE BATTLE FOR IRAQI OIL
Article by Richard Becker; interview with Colin Campbell by Mike Ruppert. The US government's threats against Iraq are less about removing a cruel dictator than securing access to Iraq's oil reserves over other contenders such as Russia and China.
XYLITOL: OUR SWEET SALVATION?
By Sherrill Sellman. A natural substance extracted from birch bark, xylitol is a safe alternative to sugar and artificial substitutes containing aspartame. It also remineralises teeth and stabilises insulin levels.
INFRASOUND: THE ESSENTIAL CAUSE OF DVT?
By David Collier. The likely cause of so-called traveller's deep-vein thrombosis (DVT) is the effect of infrasonic vibrations from engines resonating in enclosed compartments in aircraft, trains and cars.
NEUROPEPTIDES, EMOTIONS & BODYMIND
By Leigh Lehane. Dr Candace Pert's discovery of neuropeptides and their receptors, and their role in storing emotions and memories, helps explain why certain bodywork techniques are so effective.
SCIENCE NEWS
By Robert A. Nelson. Simple mechanisms such as dew ponds, air wells and fog traps offer solutions for thirsty communities in need of clean water.
DARWINISM: A CRUMBLING THEORY Part 1/2
By Lloyd Pye. The fossil record shows that both primitive and complex life-forms appeared suddenly, without predecessors. Was life seeded on Earth by extraterrestrial terraformers?
THE SAGA OF AN AREA 51 MICROBIOLOGIST
By Bill Hamilton, including the Last Letter from Dr Dan Burisch. Area 51/S4 microbiologist Dan Burisch went public on some of his work with EBE genetics, but has now paid the price with his life.
THE TWILIGHT ZONE
Paradigm-shifting items, including an ancient iron pyramid structure discovered in China, submerged temples found off Tamil Nadu, and a former Clinton chief of staff who supports an end to UFO secrecy.
Books
"Bushwhacked" by Uri Dowbenko
"Tutankhamun" by Andrew Collins and Chris Ogilvie-Herald
"Popular Paranoia" edited by Kenn Thomas
"Time and the Technosphere" by Jos'é Arg'_elles, PhD
"What Shintaro Taught Me" by Ron Lee
"Addicted to War" by Joel Andreas
"Out of the Shadows" by Dr David Clarke and Andy Roberts
"The Shadow Government" by Len Bracken
"The Holy Land of Scotland" by Barry Dunford
"The New Jerusalem: Rebuilding London…" by Adrian Gilbert
"Censored 2003" by Peter Phillips and Project Censored
"Silbury Dawning: The Alien Visitor Gene Theory" by John Cowie
"Genesis Unveiled" by Ian Lawton
"Seeds of Distrust: The Story of a GE Cover-up" by Nicky Hager
"Legends of the Star Ancestors" by Nancy Red Star
"Electronic Voice Phenomenon" by Gerry Connelly
Music
"Present" by The Itch
"Stars of Afro-Pop" by various artists
"Rasa in Concert" by Rasa
"Sya" by Issa Bagayogo
"Congo to Cuba" by various artists