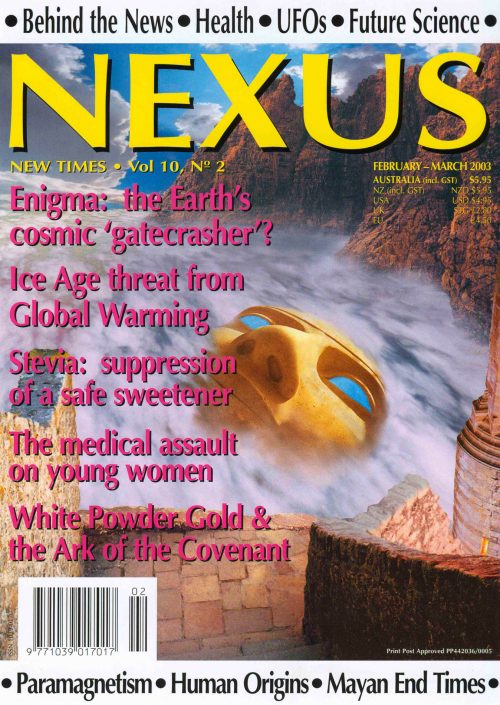 Volume 10, Number 2 – downloadable
$6.60
Volume 10, Number 2 complete issue downloadable pdf file.
Description
LETTERS TO THE EDITOR
Comments from readers on NEXUS-related topics.
GLOBAL NEWS
News you may have missed, including protection for vaccine manufacturers under the US Homeland Security Act, the legalisation of Prozac for children, and a list of last year's 10 worst corporations.
CAN GLOBAL WARMING CAUSE AN ICE AGE?
By Dr Robert Gagosian. It seems counterintuitive, but global warming could lead to dramatic, abrupt cooling in regions currently warmed by the Gulf Stream, as has happened throughout Earth's history
THE MEDICAL ASSAULT ON YOUNG WOMEN
By Sherrill Sellman. As menstruation becomes increasingly medicalised, teenage girls are being prescribed the contraceptive pill and fluorine-based antidepressants to control everything from acne to irregular periods and depression, despite the risks.
THE BITTERSWEET STORY OF STEVIA
By Jenny Hawke. The sweet stevia herb has a long history of safe use in South America and Asia, yet it is illegal as a food or additive in many Western nations, just when alternatives to refined sugar and artificial sugar substitutes are desperately needed.
ENIGMA: A CLOSE CALL FROM DEEP SPACE
By Jos'é Chung. A Black Dwarf star, dubbed "Enigma", is calculated to be on a course that will take it within 300,000 km of Earth in March 2003, close enough to cause climatic and geophysical disturbances, but NASA has been keeping it quiet.
DR PHIL CALLAHAN ON PARAMAGNETISM
Interview by Graeme Sait. Dr Phil Callahan's landmark studies of paramagnetic rock, soil fertility, plant nutrition and insect infrared communication have huge implications for sustainable agriculture.
SCIENCE NEWS
By Genesis World Energy. This consortium of cross-disciplinary visionaries claims to have developed special fuel cells for extracting hydrogen and oxygen from water, and is ready to license the technology.
DARWINISM: A CRUMBLING THEORY Part 2/2
By Lloyd Pye. Analysis of the fossil record suggests that humans could not have evolved from primates, so the logical conclusion is that we arrived intact or developed on Earth by extraterrestrial intervention.
SECRETS OF THE LOST ARK
By Laurence Gardner. Recent findings about the exotic properties of monatomic gold and platinum group metals are rediscoveries of an advanced alchemical science known by the priestly hierarchy in the ancient Middle East and Egypt.
THE TWILIGHT ZONE
By Steven McFadden. Guatemalan anthropologist Carlos Barrios, initiated into ancient Mayan secrets, says that the world, far from ending in December 2012, will be transformed but we have much spiritual work to do ahead of these changes.
Books
"Royal R. Rife Š—– Humanitarian" by Gerald F. Foye
"The Golden Ratio" by Mario Livio
"The Definitive Wee Book on Dowsing" by Hamish Miller
"Perpetual War for Perpetual Peace" by Gore Vidal
"Wild Things They Don't Tell Us" by Reg Presley
"The Gods Were Astronauts" by Erich von D'_niken
"Harnessing the Wheelwork of Nature" edited by Tom Valone
"The Lost Testament: From Eden to Exile" by David Rohl
"Secrets of the Exodus" by Messod Sabbah and Roger Sabbah
"Universal Water" by West Marrin, PhD
"Moses and Akhenaten" by Ahmed Osman
"In Quest of Lost Worlds" by Count Byron de Prorok
"The Bible Code 2: The Countdown" by Michael Drosnin
"The Shining Ones" by Christian and Barbara Joy O'Brien
Videos
"Out of the Blue" produced by FCZ Media
"Creating Prosperous Communities" produced by Alister Multimedia
"Planet X" produced by Robert Sepehr
"Magical Egypt: A Symbolist Tour" with John Anthony West
CD-ROM
"Virtual Egypt: A 360ë Cybertour" with John Anthony West
Music
"Zen Connection" by various artists
"Asian Groove" by various artists
"Bhagavan Das Now" by Bhagavan Das
"The Journey" by Jerry Brunskill
"Unfolding" by Axiom of Choice