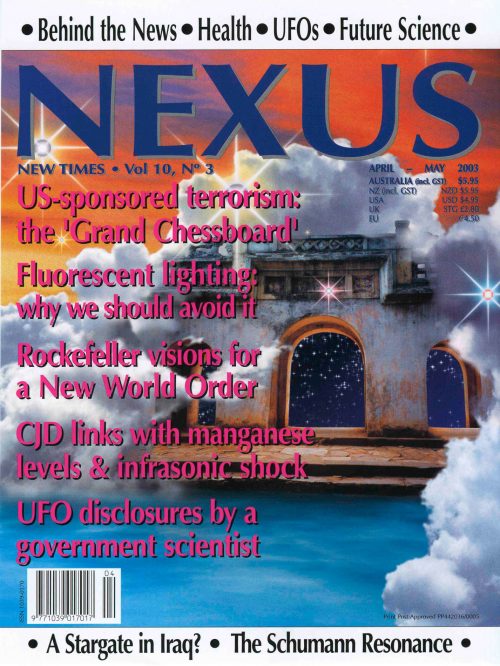 Volume 10, Number 3 – downloadable
$6.60
Volume 10, Number 3 complete issue downloadable pdf file.
Description
LETTERS TO THE EDITOR
Comments from readers on NEXUS-related topics.
GLOBAL NEWS
News you may have missed, including a Florida court ruling that the media can legally lie, UK government cover-ups over Bank of England fraud, and leaked documents on Europe's GATS stance.
THE HIDDEN FACE OF TERRORISM
By Paul David Collins. Terrorism is not born by accident but emerges, as did al-Qa'ida, as a result of covert state funding and sponsorship designed to serve the vested interests of powerful elite factions.
ROCKEFELLER INTERNATIONALISM Part 1/6
By Will Banyan. The Rockefellers were famous for their fortune and philanthropy until strategist Raymond Fosdick persuaded JDR Junior to adopt a liberal-internationalist New World Order creed.
MANGANESE, INFRASOUND & BSE Part 1/2
By Mark Purdey. The rising incidence of prion diseases like BSE and vCJD in particular regions is linked with high manganese/low copper levels and infrasonic shock-bursts in the environment.
IS INCANDESCENT LIGHT HEALTHIER? Part 1/2
By Inger Lorelei. Anecdotal reports and indirect scientific evidence suggest that incandescent light sources are better and healthier than fluorescent.
SCIENCE NEWS
By Richard Alan Miller and Iona Miller. Our brain waves share and are attuned to certain frequencies of the Schumann's resonances, the ELF signals that pulsate between the Earth's crust and ionosphere.
TIME, GRAVITY & ALIEN TECHNOLOGY
A talk by Wilbert B. Smith. This Canadian radio engineer, who died in 1962, has expanded our understanding of time travel, UFO technology and the gravitational effects of nuclear detonations.
SECRETS OF THE NEVADA TEST SITE & AREA 51
A talk by "V. L.". An unidentified physicist, who claims he worked at the Nevada Test Site and Area 51 for twelve years, made startling admissions in 1995 about nuclear testing, antigravity aeronautics, neutron bombs and nuclear terrorism.
THE TWILIGHT ZONE
By Michael E. Salla, PhD. This exopolitical view on the US-led pre-emptive war on Iraq suggests a hidden agenda beyond even the battle for oil: control of a "Stargate" to the ancient Anunnaki gods.
Books
"The Galaxy on Earth" by Richard Leviton
"Nostradamus and the Lost Templar Legacy" by Rudy Cambier
"The Bush Dyslexicon" by Mark Crispin Miller
"Hitler's Flying Saucers" by Henry Stevens
"The Scientist, The Madman, The Thief & Their Lightbulb" by K. Tutt
"Lost Secrets of the Sacred Ark" by Laurence Gardner
"Fences and Windows" by Naomi Klein
"The Templars' Legacy in Montr'éalŠ—_" by Francine Bernier
"Our Health At Risk" by Dr Janice-Ann Priest
"Medicine Man" by Jack Temple
"Awakening: How ET Contact Can TransformŠ—_" by Mary Rodwell
"The Celestial Clock" by Dr William A. Gaspar
"Planets, Sunspots and Earthquakes" by Frank Glasby
"Planet-X, Comets & Earth Changes" by James M. McCanney
Videos
"The Forgotten Story of Royal R. Rife" by Shawn Montgomery
"Crop Circles: A Silent Knowing" by Nikola Duper
Music
"Spice Groove" by various artists
"Kin Kin" by Ross Daly & Friends
"Breathing Space" by Jeff Clarkson
"An Afro-Portuguese Odyssey" by various artists
"Rhythms of Baghdad" by Ahmed Mukhtar & Sattar Al-Saadi