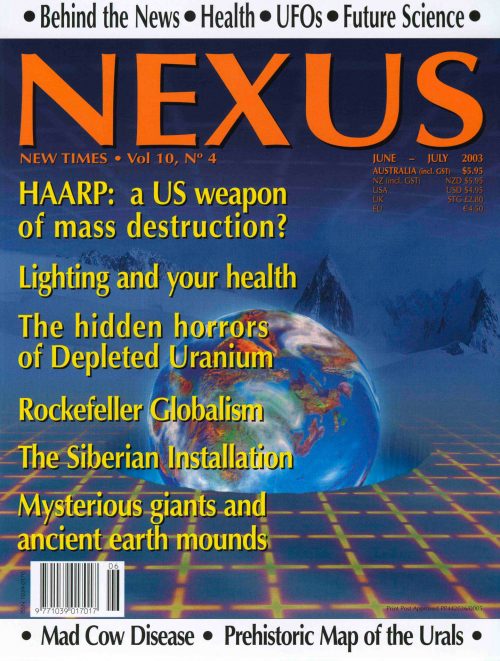 Volume 10, Number 4 – downloadable
$6.60
Volume 10, Number 4 complete issue downloadable pdf file.
Description
LETTERS TO THE EDITOR
Comments from readers on NEXUS-related topics.
GLOBAL NEWS
News you may have missed, including Monsanto's monopoly upheld on GE soybeans, a victory for Gulf War syndrome veterans, and motives behind the US demand that sanctions against Iraq be lifted.
THE SCOURGE OF DEPLETED URANIUM
By Dr Doug Rokke. US authorities are in denial over the serious adverse health and environmental effects of depleted uranium munitions and do little to help victims or decontaminate affected land.
HAARP's THREAT TO THE PLANET
by Richard A. Miller and Iona Miller. Part of the US military's "Joint Vision 2020" plan, the HAARP energy beam weapon poses a major threat to the subtle electromagnetic interplay between the Earth's surface and ionosphere and all biosystems.
ROCKEFELLER INTERNATIONALISM Part 2/6
By Will Banyan. Nelson Rockefeller, the second son of John D. Rockefeller, Jr, used the family name and wealth to pursue his political ambitions and visions for global free trade in a New World Order.
MANGANESE, INFRASOUND & BSE Part 2/2
By Mark Purdey. Scientists, health authorities and politicians prefer the all-out slaughter of animals to control BSE, while ignoring the evidence that the disease does not have hyperinfectious origins.
SCIENCE NEWS
In his 1901 essay, "Talking with the Planets", Dr Nikola Tesla discusses the idea of communicating with beings in other worlds and using the Earth's energy to send signals across vast distances.
IS INCANDESCENT LIGHT HEALTHIER? Part 2/2
By Inger Lorelei. Energy authorities and the lighting industry want to foist fluorescent lighting on consumers, when anecdotal evidence says that people prefer the glow from incandescent lamps.
HOLOCAUST OF GIANTS
By Ross Hamilton. Smithsonian Institution documents attest to the existence of a race of giants in ancient North America, but skeletal remains found in prehistoric earth mounds have either perished or been hidden from public view.
THE TWILIGHT ZONE
Graham Birdsall interviews Valery Uvarov about a strange installation in Siberia that can destroy errant cosmic bodies' and Adriano Forgione talks with Prof. Alexander Chuvyrov about the mysterious 120-million-year-old stone map he found in the Urals.
Books
"The Terracotta Warriors" by Maurice Cotterell
"You Are G8, We Are 6 Billion" by Jonathan Neale
"Spin Wave Technology" by George J. Bugh
"The Gospel of the Toltecs" by Frank D'_az
"Without Consent" by Carl Nagaitis and Philip Mantle
"The Genesis and Geometry of the Labyrinth" by Patrick Conty
"Save Israel!" by Barry Chamish
"The Secret Land 2: Journeys into the Mystery" by Gary Cook
"Dreaming War" by Gore Vidal
"The Party's Over" by Richard Heinberg
"Health Betrayal" by Eve Hillary
"Solomon Š—– Falcon of Sheba" by Ralph Ellis
"Why America's Children Can't Think" by Peter Kline
"Mothers: Prevent…Breast Cancer" by Sherrill Sellman
"Medicine Man" by Jack Temple
"Our Health At Risk" by Dr Janice-Ann Priest
"Flood your Body with Oxygen" by Ed McCabe
CD-ROM
"GridpointŠ†¢ 3.0" from Quark Enterprises Ltd and Harmonitech
Product
"The Safe-T-Fone" from Safe-T-Fone Pty Ltd
Music
"Yol Bolsin" by Sevara Nazarkhan
"Embrace" by Deva Premal
"Moroccan Gypsies" with Sidi Mimoun and Ben Souda
"Rumba Flamenco" with various artists
"Rezos" by Bobi C'éspedes