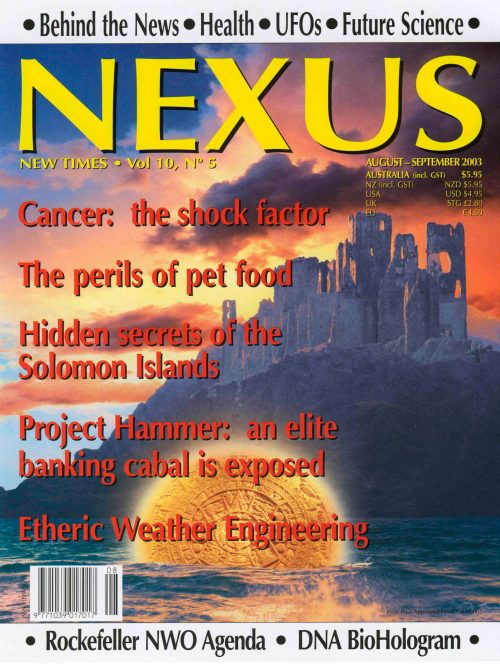 Volume 10, Number 5 – downloadable
$6.60
Volume 10, Number 5 complete issue downloadable pdf file.
Description
LETTERS TO THE EDITOR
Comments from readers on NEXUS-related topics.
GLOBAL NEWS
Breaking news including Pentagon surveillance and space weapons plans, research linking solar flares with Earth temperatures, and a complaint to the ICC on pharmaceutical industry crimes.
THE PET FOOD INDUSTRY's PRACTICES
By Ann Martin. The pet food industry must be regulated to ensure that only safe ingredients, not the remains of euthanised companion animals, are included in commercial pet foods.
THE NEW MEDICINE OF DR HAMER
By Walter Last. For discovering the shock-conflict mechanism underlying cancer and demonstrating it with CT brain scans, Dr Ryke Geerd Hamer has been persecuted by courts across Europe.
ROCKEFELLER INTERNATIONALISM Part 3/6
By Will Banyan. For decades David Rockefeller has been promoting a "one world" vision to fellow powerbrokers, while rejecting criticism that he has any role in a cabal intent on controlling the planet.
PROJECT HAMMER RELOADED Part 1/2
By David Guyatt. Gold bullion and other booty looted during World War II is still being used to fund secret trading programs that bankroll black projects and rescue major banks from insolvency.
SCIENCE NEWS
From Etheric Rain Engineering Pte Ltd. Expanding on Dr Wilhelm Reich's Cloudbuster technology, Trevor J. Constable has proved that etheric energy devices can dissipate smog and break drought.
LEE CROCK's 'AURA THERAPY' MACHINE
By Jerry Decker. A simple electronic device connected to a wire mesh screen with a polarity switch mechanism can act on the body's auric field to assist healing at the cellular level.
FROM HELIX TO HOLOGRAM
By Iona Miller and Richard Alan Miller. Life is fundamentally electromagnetic, and the DNA helix serves as a bioholographic matrix that guides the organisation of physical form.
THE SNAKE DRAGON MYSTERY
By Marius Boirayon. The Solomon Islanders have a long history of encounters with strange aerial craft and alien beings, and recent experiences sparked this former RAAF engineer to search for UFO bases.
THE TWILIGHT ZONE
Marius Boirayon reports on eyewitness accounts of Giants that still exist in the caves and mountainous jungles of the Solomon Islands, prompting us to question conventional ideas of evolution.
Books
Surgery and its Alternatives" by Drs Sandra and David McLanahan
"Maya: The World as Virtual Reality" by Richard L. Thompson
"What Really Causes AIDS" by Harold D. Foster
"Healing Sounds: The Power of Harmonics" by Jonathan Goldman
"Firestorm" by Ann Druffel
"The Masters of the Mystical Rose" by Maree Moore
"The H.I.S.S. of the A.S.P." by David Ritchey
"Secret Societies of America's Elite" by Steven Sora
"America's Secret Establishment" by Antony C. Sutton
"Pyramid of Secrets" by Alan Alford
"The Age of Consent" by George Monbiot
"Earth Rising II" by Dr Nick Begich and James Roderick
"The Life Cycle of Civilizations" by Stephen Blaha
"Into the Buzzsaw" edited by Kristina Borjesson
DVDs & Videos
"Crop Circles: The Ultimate…Investigation" by J.H.Gibsone
"Peru's Mystery in Stone" from Terra Entertainment
"Holistic Therapies – Demonstrations" from E & E Productions
Music
"Cover the World" by various artists
"Fields of Green" by Paul Benhaim Hemp Plastic Music
"El Sultaan Š—– Classical Egyptian Dance" by Hossam Ramzy
"Buenos Hermanos" by Ibrahim Ferrer
"Over Nine Waves" by Rebecca Hood