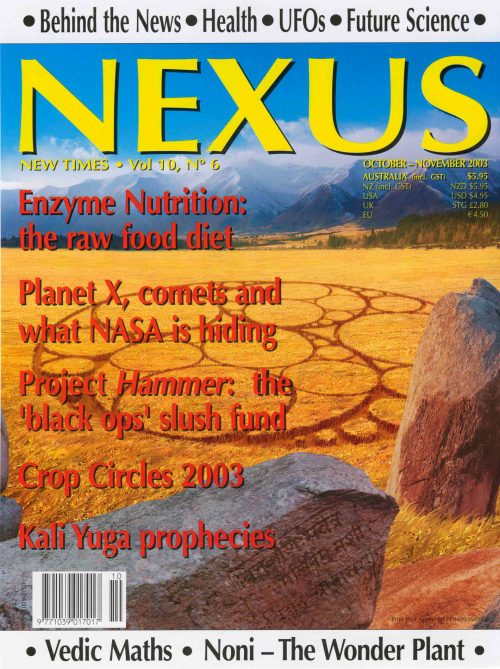 Volume 10, Number 6 – downloadable
$6.60
Volume 10, Number 6 complete issue downloadable pdf file.
Description
LETTERS TO THE EDITOR
Comments from readers on NEXUS-related topics.
GLOBAL NEWS
News doing the rounds, including evidence linking vaccines to childhood diabetes, suspicions of a pre-invasion CIA/DIA electronic heist on Iraq's central bank, and eyewitness reports of an awesome US secret weapon used in the streets of Baghdad.
ENZYME NUTRITION THERAPY Part 1/3
By Mark Rojek. Because cooking destroys the very enzymes that are essential for the digestion process, it is important to eat more raw food. Today's epidemic in allergies and chronic diseases may well be the result of eating too much cooked food.
NONI: THE TROPICAL CURE-ALL PLANT
By Jenny Hawke. The leaf, root and fruit of the noni plant, native to the AsiaŠ—–Pacific region, have potent therapeutic properties and specific uses that are increasingly being recognised in the West.
ROCKEFELLER INTERNATIONALISM Part 4/6
By Will Banyan. David Rockefeller's "one world" vision of global economic interdependence involves the US collaborating with other nations, not implementing some crude imperialistic agenda.
PROJECT HAMMER RELOADED Part 2/2
By David G. Guyatt. A network of global players has been operating secret collateral trading programs that create vast personal and corporate profits and fund "black" projects on the side.
SCIENCE NEWS
By Jain (with supporting material from the VedicMaths.org website). Only rediscovered in the early 20th century, the ancient Vedic system of mathematical calculation is gaining devotees today due to its lightning speed and elegant simplicity.
ANTIGRAVITY: HOLY GRAIL OF THE CENTURY
By Bruce A. Smith. Across the planet, the high-stakes race is on to unlock the secrets of antigravity. An understanding of electromagnetic, electrostatic and torsion fields may give clues to finding the key.
PLANET X, COMETS & WHAT NASA IS HIDING
An interview by Rick Martin. Astrophysicist James M. McCanney says NASA won't admit that the planet-sized cosmic bodies visiting our solar system could devastate the Earth without actually hitting it.
GENIUS IN THE FIELDS: CROP CIRCLES 2003
By Andy Thomas. The hot summer cut short this year's crop circle season in England, but new themes emerged and formations were seen in greater numbers in Europe and North America.
THE TWILIGHT ZONE
From the IndiaDivine website. The ancient Vedic scriptures contain prophecies about the current Kali-yuga (the dark age that began in 3102 BC), many of which have significance for us today.
Books
"Secrets of the Ancient Incas" by Michael Peter Langevin
"The Templar Treasure at Gisors" by Jean Markale
"Sacred Places, North America" by Brad Olsen
"Nutrition Rules!" edited by Graeme Sait
"Healing the Hurts of Nations" by Palden Jenkins
"A Healing Light" by Kimberly Panisset Curcio
"Mary Magdalene: Christianity's Hidden Goddess" by Lynn Picknett
"X3, Healing, Entities, and Aliens" by Adrian Dvir
"How Can I Use Herbs in My Daily Life?" by Isabell Shipard
"When The Body Says No" by Gabor Mat'é
"The War on Freedom: The 9/11 Conspiracies" by Jim Marrs
"Our Media, Not Theirs" by Robert W. McChesney & John Nichols
"Behind the War on Terror" by Nafeez Mosaddeq Ahmed
"Reefer Madness and Other Tales…" by Eric Schlosser
DVDs & Videos
"Mohammed Atta & the Venice Flying Circus" from Mad Cow Press
"Vedic Mathematics for the New Millennium" presented by Jain
"Alien Implants: Dr Roger Leir" presented by William J. Birnes
Music
"African Playground" by various artists
"Music of the Nile" by various artists
"Pacifica Pia" by Pia
"East to West" by Baka Beyond
"Zabuca" by Johannes Linstead