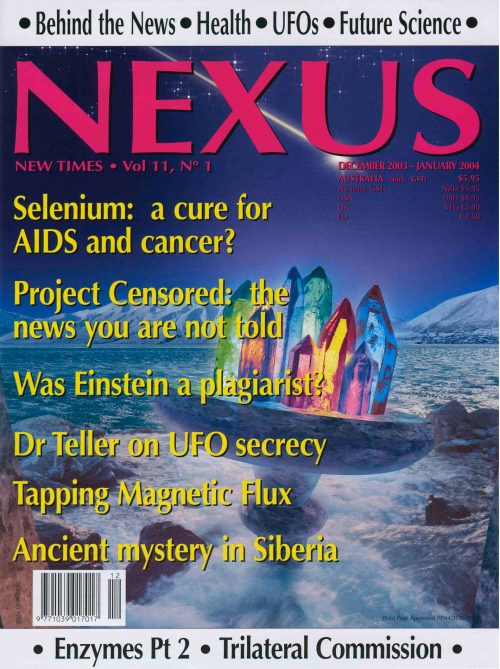 Volume 11, Number 1 – downloadable
$6.60
Volume 11, Number 1 complete issue downloadable pdf file.
Description
LETTERS TO THE EDITOR
Comments from our readers.
GLOBAL NEWS
News you may have missed, including findings on the Sun being at its most active in more than a millennium, research proving that microwave cooking zaps food nutrients, and a challenge to the EU ban on some vitamin and mineral supplements.
PROJECT CENSORED'S TOP 25 NEWS STORIES
By the Project Censored team.  In 2002–2003, the news most sidelined by America's mainstream media concentrated on US government and corporate authoritarianism at home and abroad.

ENZYME NUTRITION THERAPY—Part 2/3
By Mark Rojek.  Plant-derived enzymes, with a broad pH factor ranging from 2.0 to 12.0, have enormous potential for treating disease, especially problems related to the immune system.
AIDS:  THE SELENOENZYME SOLUTION—Part 1/2
By Harold D. Foster.  AIDS is ravaging sub-Saharan Africa, but the exception is Senegal which has the lowest AIDS incidence and the highest levels of selenium in its soil and crops.  Is there a link?
ROCKEFELLER INTERNATIONALISM—Part 5/6
By Will Banyan.  With Zbigniew Brzezinski's ideology behind him, David Rockefeller set up the Trilateral Commission to win over the advanced capitalist nations to his New World Order vision.
SCIENCE NEWS
By Tim Harwood.  Inventor Joe Flynn's parallel path magnetic technology works not by defying the laws of physics but by extracting magnetic flux energy.
EINSTEIN:  PLAGIARIST OF THE CENTURY
By Richard Moody, Jr.  Albert Einstein failed to credit the scientists whose work he borrowed for his special relativity theory, and allowed the data from the 1919 eclipse to be fudged.
SIBERIA'S MYSTERIOUS "VALLEY OF DEATH" – Part 1/4
By Valery Uvarov.  Across a large area of Yakutia in Siberia can be found anomalous metallic structures which, according to legend, come to life with explosive force every six or seven centuries.
UFO TECHNOLOGY:  IMBALANCE OF POWER
By Dr Edward Teller.  Official secrecy on UFOs should be relaxed and ET technology integrated into US weapons systems to counter UFO nuclear attack, according to this leaked document.
THE TWILIGHT ZONE
News from out of this world, including proof that the US media suppressed reports of UFO sightings, and revelations that a US Library of Congress staffer wrote studies for President Carter on ET intelligence.
REVIEWS—Books
"What Next?…The Missing Prophecies", by A. Austin and F. Yule
"Pirates & The Lost Templar Fleet" by David Hatcher Childress
"In Baghdad: A Reporter's War" by Paul McGeough
"The Book of Hiram" by Christopher Knight and Robert Lomas
"Strange Secrets" by Nick Redfern and Andy Roberts
"Connecting the Dots…" by Paola Leopizzi Harris
"Human Devolution" by Michael A. Cremo
"Swirled Harvest" by Andy Thomas
"The Burzynski Breakthrough" by Thomas D. Elias
"The Genesis Race" by Will Hart
"Censored 2004" by Peter Phillips and Project Censored
"The Greatest Experiment Ever Performed on Women" by B. Seaman
"Synthesis in Healing" by Judy Jacka
"Hidden Meanings" by Laird Scranton
CD-ROM
"The Urantia Book CD-ROM"
Calendar
"The 2004 Bicycle Cartoon Calendar" by Phil Somerville
Videos
"International Scientific & Metaphysical Symposium videos"
"Surprising Discoveries 6: In a Coffin in Egypt"
Music
"Seed" by Afrocelts
"Live at Angel Place" by TaikOz2
"Sufi" by various artists
"The Oliver Mtukudzi Collection" by Oliver Mtukudzi
"Archipelago" by Dian Booth and Carolyn Sykes