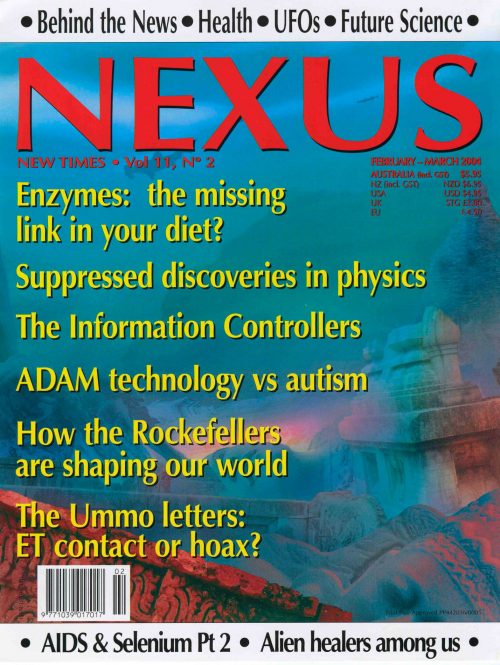 Volume 11, Number 2 – downloadable
$6.60
Volume 11, Number 2 complete issue downloadable pdf file.
Description
LETTERS TO THE EDITOR
Comments from our readers.
GLOBAL NEWS
News and views, including the Pope's call for a new world order, admissions that Britain's MI6 planted WMD stories, claims that Kurdish forces captured Saddam first, and prophecies for 2004.
INFORMATION CONTROL, SOCIAL CONTROL
By David B. Deserano.  What we think and believe is shaped in subtle ways by the messages we consume, brought to you not just by the media and entertainment corporations but by governments, their agencies and the military-industrial complex.

ADAM TECHNOLOGY:  HOPE AGAINST AUTISM
By Joe Champion.  A revolutionary technology called ADAM, an "Aphysical Dimensional Access Manager", opens an interdimensional rift, allowing a communication link that has powerful benefits in the treatment of autism and autoimmune diseases.
ENZYME NUTRITION THERAPY—Part 3/3
By Mark Rojek.  The way to treat disease, aid digestion and promote health and longevity is to eat enzyme-rich raw foods and take supplemental enzymes to make up for those lost in cooked foods.
ROCKEFELLER INTERNATIONALISM—Part 6/6
By Will Banyan.  This final part looks at the life and work of Rockefeller brothers John D. III and Laurance, and at the current generation's members who remain guardians of a legacy perpetuated through philanthropies and policy-planning groups.
AIDS:  THE SELENOENZYME SOLUTION—Part 2/2
By Harold D. Foster.  AIDS is the result of HIV infection which causes deficiences of the enzyme glutathione peroxidase and its four components, yet the syndrome can be reversed and viral activity halted with a specific dietary regimen.
SCIENCE NEWS
This issue, Claus Turtur explores the link between gravitation and other fundamental interactions; Robert Pope discusses Creative Physics as a blueprint for survival; and Tom Watson theorises that gravity is a natural internal magnetic attraction.
SUPPRESSED DISCOVERIES IN PHYSICS—Part 1/2
By Rochus Boerner.  When radical new evidence challenges cherished theories in physics, the orthodoxy reacts by ignoring it, refusing to publish it, or denigrating it along with its discoverer.
THE UMMO LETTERS:  ET CONTACT OR HOAX?
By Joss Morisson.  Nearly 40 years after the Ummo letters first started to be received by a select few in Spain, the controversy and the mystery remain.
THE TWILIGHT ZONE
Israeli engineer Adrian Dvir, who claims he's been working with alien doctors at his clinic since 1995, reports on healing activity and alien implants as well as atomic physics, time speed and parallel universes.
REVIEWS—Books
"Hidden Nature" by Alick Bartholomew
"The Secret in the Bible" by Tony Bushby
"The Serpent Rising" by Mary Garden
"Discovery of Atlantis" by Robert Sarmast
"Pushing Gravity" edited by Matthew R. Edwards
"What Really Causes Schizophrenia" by Harold D. Foster, PhD
"The Coming Economic Collapse of 2006" by M.W. Mandeville
"Behold Jerusalem!" by Graham K. Griffiths
"Fleshing Out Skull & Bones" edited by Kris Millegan
"Faith and the Placebo Effect" by Lolette Kuby, PhD
"Inside the Shadow Government" by Harry Helms
"Seeds of Deception" by Jeffrey M. Smith
"The Giza Death Star Deployed" by Joseph P. Farrell
"The Alien Chronicles" by Matthew Hurley
Music
"The Light Dance" by Buedi Siebert
"Music from Sudan" by Hassouna Bangaladish
"Salsa around the World" by various artists
"Fiebre" by Radio Tarifa
"Alif – Love Supreme" by Omar Faruk Tekbilek