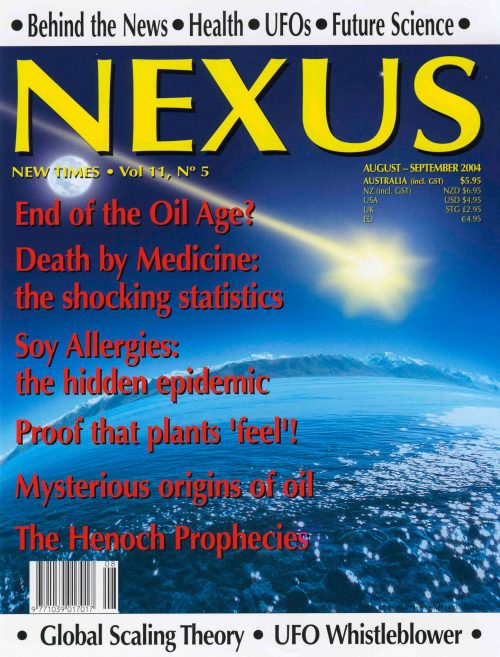 Volume 11, Number 5 – downloadable
$6.60
Volume 11, Number 5 complete issue downloadable pdf file.
Description
LETTERS TO THE EDITOR
Comments on NEXUS-related topics, including a chemtrails conspiracy going back to the 1960s, an encounter with the Egyptian Antiquities director, and successes in treating AIDS in Africa.
GLOBAL NEWS
Groundbreaking news, including the Verneshot hypothesis that may explain some impact craters, new electric stun weapons that can target crowds, and the late September flypast of asteroid Toutatis.
PEAK OIL REVISITED: CONFERENCE IN BERLIN
By Michael C. Ruppert. We're on the brink of a global energy crisis as major oilfields decline in productivity, new infrastructure becomes too expensive to build and demand continues to rise.

DEATH BY MEDICINE—Part 1/3
By Carolyn Dean, MD, ND, Martin Feldman, MD, Gary Null, PhD, and Debora Rasio, MD. This landmark analysis of thousands of studies reveals that mistakes made by the medical/pharmaceutical system are the leading cause of death in the USA.
THE HIDDEN DANGERS OF SOY ALLERGENS
By Kaayla T. Daniel, PhD. Since the mid-1990s, more soy content has been added to processed food products than ever before. The rise in allergic reactions to soy is a major public health concern, and GE soy is further complicating the problem.
THE MYSTERIOUS ORIGINS OF OIL
By Siegfried E. Tischler, PhD. Oil is not formed by the decay of organic matter but is created by hydrogenation processes deep within the Earth. So are we still facing the end of the Age of Oil?
PRIMARY PERCEPTION: THE BACKSTER EFFECT
Interview by Derrick Jensen. When Cleve Backster attached polygraph electrodes to a plant in 1966, he obtained readings that indicated living cells tune into and respond to their environment as well as to human emotions and intentions.

SCIENCE NEWS: GLOBAL SCALING THEORY
By Richard Sauder, PhD. US military insiders and contractors have been leaking details about secret underground/underwater bases and their purposes.
PROPHECIES FROM THE MEIER CONTACTS
By Michael Horn, and with contactee Billy Meier in discussion with Quetzal, the Plejaren, on the Henoch Prophecies. So many Plejaren predictions have come true that we'd be wise to heed their warnings of annihilation and learn to live together.
THE TWILIGHT ZONE
Strange tales from on and off our world. This issue we present Linda Moulton Howe's interview with former US naval intelligence officer C. B. Scott Jones on the UFO cover-up and need for disclosure.
REVIEWS—Books
"Sorcerer's Apprentice" by Amy Wallace
"Ayahuasca…The Vine of the Soul" by Joan Parisi Wilcox
"The Book of Floating" by Michael Hutchison
"Genesis of the Cosmos" by Paul A. LaViolette, PhD
"Crop Circles: Evidence of a Cover-up" by Nicolas Montigiani
"Primary Perception" by Cleve Backster
"Holistic Handbook of Sauna Therapy" by Nenah Sylver, PhD
"Bushwomen: Tales of a Cynical Species" by Laura Flanders
"Retrocognitions" by Wagner Alegretti
"Sign Language of the Soul" by Dr Dale H. Schusterman
"The Earth Chronicles Expeditions" by Zecharia Sitchin
"Moon Landings: Did NASA Lie?" by Philippe Lheureux
"The Emerald Modem" by Richard Leviton
"Exopolitics" by Michel E. Salla, PhD
DVDs & Videos
"Expressions of ET Contact: A Visual Blueprint?" (2003 Edition)
"Expressions…: A Communication & Healing Blueprint?"
Music
"Bowmboï" by Rokia Traoré
"World Reggae" by various artists
"Taiko to Tabla" by Joji Hirota and Peter Lockett
"Incendio" by Incendio
"Comfort Zone" by Ian Cameron Smith