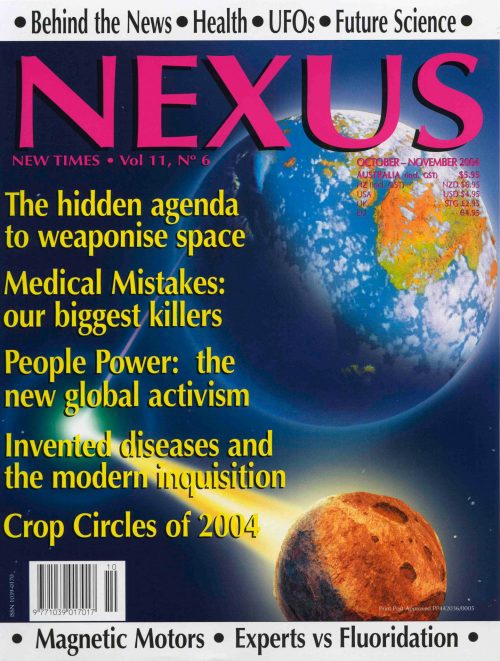 Volume 11, Number 6 – downloadable
$6.60
Volume 11, Number 6 complete issue downloadable pdf file.
Description
LETTERS TO THE EDITOR
Comments from readers on NEXUS-related topics.
GLOBAL NEWS
This issue we focus on Project Censored's 25 big news stories ignored by the US mainstream media in the last year, and include an item on wargames held on 9/11 involving hijacked plane scenarios.
THE RISE OF THE NEW GLOBAL ACTIVISM
By Eve Hillary.  While governments are cracking down on personal freedoms in the cause of fighting terrorism, grassroots activist groups are gaining ground in standing up for human rights and justice.

PREVENTING THE WEAPONISATION OF SPACE
Interview by Linda Moulton Howe.  Carol Rosin is carrying on the work of rocket scientist Dr Wernher von Braun to ban weapons from space and curb the power of the US military-industrial complex.
THE ABSURDITIES OF WATER FLUORIDATION
By Paul Connett, PhD.  The addition of fluoride compounds to our water supplies is an unethical, unnecessary, ineffective, unsafe and inequitable practice supported by vested interests in industry, government and the medical/dental professions.
DEATH BY MEDICINE—Part 2/3
By Carolyn Dean, MD, ND, Martin Feldman, MD, Gary Null, PhD, and Debora Rasio, MD.  Statistics on unnecessary medications, surgical procedures, X-ray scans and hospitalisations show that our modern health care system is in severe crisis.
JUSTICE OUT OF BALANCE
By Michael Nott.  The munchausen syndrome by proxy label has been slammed in courts but is still used by doctors and child care agencies to blame mothers for their children's undiagnosed illnesses.

LETTERS FROM THE UNDERGROUND
By Richard Sauder, PhD.  US military insiders and contractors have been leaking details about secret underground/underwater bases and their purposes.
SCIENCE NEWS
Tim Harwood describes John Ettridge's Gemini motor, incorporating permanent magnets and H-shaped stators; Dr Harold Aspden and Dr Robert Adams reveal more secrets of the Adams Motor, including its encoded golden ratio geometry.
GEOMETRY IN THE GRAIN:  UK CROP CIRCLES
By Andy Thomas.  The 2004 UK crop circle season yielded around 60 formations, incorporating dramatic shapes and complex geometries that defied the capabilities of the "plankers".
THE TWILIGHT ZONE
Strange tales from on and off our world.  This issue we feature Donald Rumsfeld's surprising UFO connection, mysterious towers in China and Tibet, and a 7,000-year-old battery unearthed in Bulgaria.
REVIEW—Books
"Sleeping with the Devil" by Robert Baer
"Indonesia's Secret War in Aceh" by John Martinkus
"Drug War Crimes" by Jeffrey A. Miron
"Inside Job:  Unmasking the 9/11 Conspiracies" by Jim Marrs
"Civilization One" by Christopher Knight and Alan Butler
"Gods, Genes and Consciousness" by Paul Von Ward
"Guardians of the Holy Grail" by Mark Amaru Pinkham
"Axis of Deceit" by Andrew Wilkie
"Skewed:  Psychiatric Hegemony…" by Martin J. Walker
"Talisman" by Graham Hancock and Robert Bauval
"The Fluoride Deception" by Christopher Bryson
"Energy Secrets of Glastonbury Tor" by Nicholas R. Mann
"More Than Money, True Prosperity" by Michael J. Roads
"High Priests, Quantum Genes" by Michael Hayes
DVDs & Videos
"Sweet Misery:  A Poisoned World" by Sound & Fury Prodns
"Out in the Fields 2003" presented by Stuart Dike
"9/11:  The Great Illusion" produced by George Humphrey
Music
"Travel the World with Putumayo" by various artists
"Floating World" by Riley Lee & Marshall McGuire
"Mama Africa" by Suzzana Owiyo
"Flor de Amor" by Omara Portuondo
"Speaking the Mamma Tongue" by John McDowell