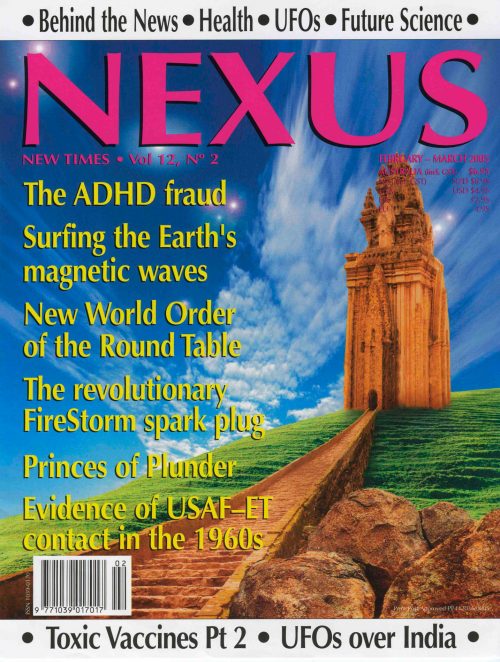 Volume 12, Number 2 – downloadable
$6.60
Volume 12, Number 2 complete issue downloadable pdf file.
Description
LETTERS TO THE EDITOR
Comments from readers on NEXUS-related topics.
GLOBAL NEWS
Groundbreaking news, including nanotechnology's threat to food and agriculture, a US bill that would allow mental health screening of schoolchildren, and revelations that some of Europe's surveillance groups have been linked to terrorism.
ADHD:  EPIDEMIC OF A PHANTOM DISEASE
By Dr Bob Jacobs.  Increasing numbers of children are being diagnosed with invented "attention deficit disorders" and given dangerous stimulants to control what is fairly normal childhood behaviour.

TRUTH ABOUT VACCINES COVER-UP—Part 2/2
By Russell Blaylock, MD.  US vaccine experts who have studied the Vaccine Safety Datalink research have kept quiet about the neurological damage caused by vaccines and their toxic components.
SHORT HISTORY OF THE ROUND TABLE—Part 2/4
By Will Banyan.  Alfred Milner, a confidante of Cecil Rhodes, supported the idea of imperial federation, seeing it as a means of perpetuating British power in the guise of a supranational state.
PRINCES OF PLUNDER
By David G. Guyatt.  The powerful European, British and American families and corporations that did business with Hitler's Germany before the war scrambled to benefit from the fall of Berlin.
THE SIREN SONG OF THE EARTH
By Benjamin Lonetree, with introduction by Iona Miller.  Sensitive instruments can tune into electromagnetic signals travelling through the Earth, natural vortex energies in the landscape and disruptions caused by HAARP VLF experiments.

SCIENCE NEWS
by Robert Stanley.  Robert Krupa's radically redesigned FireStorm spark plug can dramatically improve the efficiency of an internal combustion engine and decrease emissions of pollutants.
SIBERIA'S "VALLEY OF DEATH"—Part 3/4
By Dr Valery Uvarov.  Evidence and testimony suggest that intelligently guided plasma spheres using a compensatory explosive force technology destroyed the 1908 Tunguska meteorite in flight.
THE TALL WHITE EXTRATERRESTRIALS
An interview with Charles Hall by Dr Michael E. Salla.  A weather observer at Nellis AFB in the mid-1960s, Charles Hall encountered Tall White ETs engaged in technology transfer with the military.
THE TWILIGHT ZONE
This issue we include reports on the current wave of UFO sightings and rumours of bases on the Indian side of the Himalaya, plus news from Norte Chico, Peru, site of the earliest civilisation of the Americas.
REVIEWS—Books
"The Ambushed Grand Jury" by Wes McKinley, Caron Balkany
"The Crucifixion of Truth" by Tony Bushby
"Gematria:  The Numbers of Infinity" by Marke Pawson
"The Reincarnation of Edgar Cayce?" by W. Free & D. Wilcock
"The Midnight Sun" by Alan F. Alford
"Lost Science of the Stone Age" by Michael Poynder
"The Children of the Sun" by W. J. Perry
"Millennial Hospitality, Volumes I, II, III" by Charles James Hall
"Science and the Akashic Field" by Ervin Laszlo
"The Hypnotic Power of Crop Circles" by Bert Janssen
"The Voynich Manuscript" by Gerry Kennedy & Rob Churchill
"Twenty-first Century Grail" by Andrew Collins
"Access Denied" by Cathy O'Brien with Mark Phillips
"The Copycat Effect" by Loren Coleman, MSW
DVDs & Videos
"Warrant for the Arrest of a Researcher"
"MAMA/M.A.M.A.:  Mothers, Medicine and Madness"
"Quecksilber:  The Strange Story of Dental Amalgam"
Music
"South Pacific Islands" by various artists
"In Retrospect:  1980–2003" by David Parsons
"Medicine Woman III:  The Rising" by Medwyn Goodall
"Masters of the Shakuhachi" by Hidekazu Katoh, Richard Stagg
"Dragonfly" by Stringmansassy