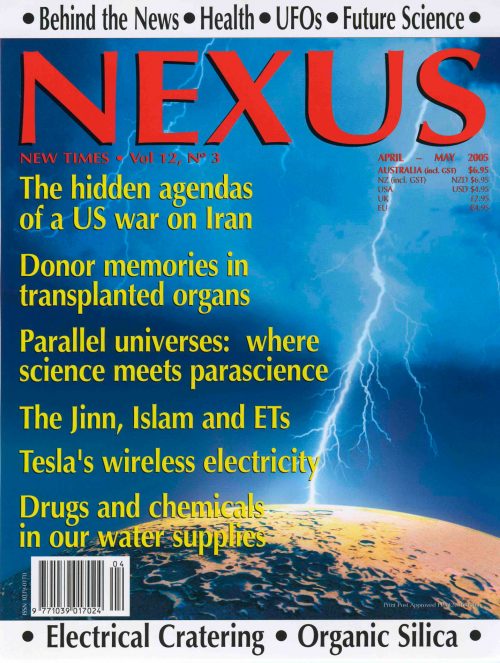 Volume 12, Number 3 – downloadable
$6.60
Volume 12, Number 3 complete issue downloadable pdf file.
Description
LETTERS TO THE EDITOR
Comments from readers on NEXUS-related topics.
GLOBAL NEWS
Groundbreaking news, including fraud over a missing link between humans and Neanderthals, a cover-up by DuPont on the dangers of teflon, and a plasma weapon that induces pain from a distance.
ONWARD TO IRAN & THE "WAR ON TYRANNY"
By Richard Heinberg.  The US Bush administration is moving closer to a war on Iran, not just over the nuclear weapons issue but Iran's plan to open an oil bourse and trade in euros, not dollars.

THE PERSECUTION OF LOIC LE RIBAULT—Part 1/2
By Martin J. Walker.  A French forensic scientist who co-developed a form of organic silica that can cure a range of ailments was hounded by the authorities and corporations and forced into exile.
ORGAN TRANSPLANTS & CELLULAR MEMORIES
By Paul Pearsall, PhD, Gary E. Schwartz, PhD, and Linda G. Russek, PhD.  Many organ transplant recipients exhibit behaviours and preferences that could only have come from the organ donors.
DRUGS AND CHEMICALS ON TAP
By Sherrill Sellman, ND.  Studies show that the increasing number of poisons being detected in our waterways and water supplies are sourced from pharmaceutical drugs and personal care products.
SHORT HISTORY OF THE ROUND TABLE—Part 3/4
By Will Banyan.  In 1909, members of Milner's Kindergarten regrouped in London, founding the Round Table for the purpose of creating an imperial federation covering Britain and the dominions.

SCIENCE NEWS
This issue we present the results of an experiment by the Thunderbolts group using electrical discharge to create craters in the lab, and a treatise by Karen Klockner and David Brennan on parallel universes, paranormal physics and dimensional doorways.
TESLA'S WIRELESS ELECTRICITY
By Thomas Valone, PhD.  The wireless electricity transmission system that Dr Nikola Tesla pioneered could solve many of the ongoing power supply problems in the USA today and into the future.
SIBERIA'S "VALLEY OF DEATH"—Part 4/4
By Dr Valery Uvarov.  Eyewitness reports of the destruction of meteorites over Siberia in 1984 and 2002 by "terminator spheres" give further credence to accounts of the 1908 Tunguska explosion.
THE TWILIGHT ZONE
This 1983 article by Gordon Creighton draws many parallels between ETs and the Jinns, whose subtle influence on man is recognised by Islam, and refers to Rudolf Steiner's warnings about demonic beings.
REVIEWS—Books
"The Energy Machine of T. Henry Moray" by Moray B. King
"How to Photograph the Paranormal" by Leonore Sweet, PhD
"The Carbon Dioxide Syndrome" by Jennifer & Russell Stark
"What Really Causes Alzheimer's Disease", by Harold D. Foster
"A Mere Grain of Sand" by Ray & Gillian Brown
"The Prevention of All Cancers" by Hulder Regehr Clark, PhD
"The Elite Don't Dare Let Us Tell The People" by R. G. Ross, Sr
"Raw Meaty Bones:  Promote Health" by Tom Lonsdale
"Divining Earth Spirit" by Alanna Moore
"Project Beta:  The Story of Paul Bennewitz…" by Greg Bishop
"The Lost Colony of the Templars" by Steven Sora
"The Magdalene Legacy" by Laurence Gardner
"Absurdistan:  A Bumpy Ride…" by Eric Campbell
"The Sydney Connection" by John Jiggens
DVDs & Videos
"The Illuminati – Volume 1" by C. Everard-Jurquet & A. J. Hilder
"Rife's Fall" by Shawn Montgomery
Music
"Music from the Chocolate Lands" by various artists
"Chartres" by Catherine Braslavsky Ensemble
"Spirit of Love" by Maya & Sage
"Red & Green" by Ali Farka Toure
"Enchanted Egypt" by Phil Thornton & Hossam Ramzy