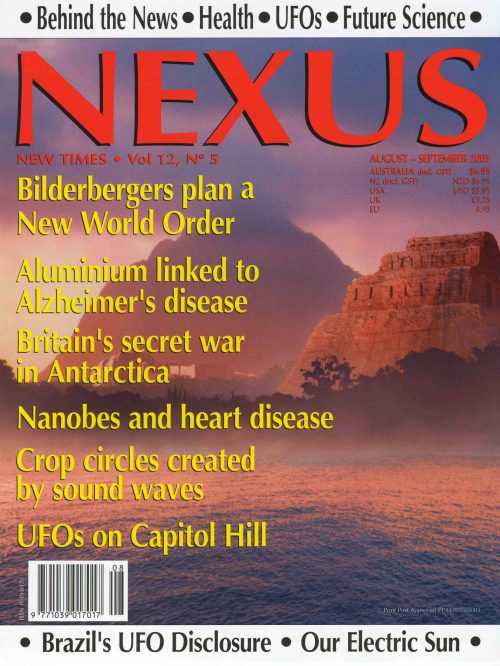 Volume 12, Number 5 – downloadable
$6.60
Volume 12, Number 5 complete issue downloadable pdf file.
Description
LETTERS TO THE EDITOR
Comments from readers on NEXUS-related topics.
GLOBAL NEWS
This issue includes news of a leaked British Cabinet paper that confirms the UK was committed to a US-led invasion of Iraq in April 2002, and a rundown on the real G8 agenda behind debt relief.
BREAKING THE SILENCE: BILDERBERG EXPOSED
By Daniel Estulin. Secret discussions at this year's Bilderberg meeting have, as usual, set the agenda for running markets and wars in the year ahead. Among the proposals on their wish list are a UN-imposed oil tax and a peacebuilding commission.

DOWN ON THE FARM—Nanotechnology in the Food Chain – Part 2/2
By ETC Group. Gene technology is problematic enough, but now nanotech research ventures and food corporations are putting nanoparticles into food and cosmetics as well as packaging.
THE NANOBACTERIA LINK TO HEART DISEASE
By Douglas Mulhall. Nanobacteria have been found at the core of the calcification that's common to medical conditions like heart disease and arthritis, but now a simple treatment is having success at reversing these infections and symptoms.
ALZHEIMER'S DISEASE: THE ALUMINIUM LINK
By Harold D. Foster. Some people have a genetic predisposition for Alzheimer's disease, but environmental factors that increase aluminium levels and leach magnesium and calcium are likely to be responsible for the rise of this illness.
BRITAIN'S SECRET WAR IN ANTARCTICA—Part 1/3
By James Roberts. At the end of World War II, Britain sent a covert mission to Antarctica to seek out and destroy a subterranean Nazi haven.

SCIENCE NEWS
This issue we feature articles from David Talbott that counter the myth of the Sun as a nuclear furnace and promote the plasma glow discharge model.
DOES SOUND CREATE CROP CIRCLES?
By Freddy Silva. Trilling sounds have often been recorded in connection with crop circle creation, and experiments with plants and sound have produced similar effects in the laboratory.
UFOs ON CAPITOL HILL—Part 1/2
By Robert Stanley. Exactly 50 years after UFOs buzzed Capitol Hill in Washington, DC, in July 1952, gravity-defying objects penetrated restricted airspace and even landed on the Capitol Building.
THE TWILIGHT ZONE
This issue our focus is on mass UFO sightings in Mexico, a mysterious black triangular craft with English wording on its underside, and a new spirit of disclosure from the Brazilian Air Force.
REVIEWS—Books
"The Secret Teachings of Plants" by Stephen Harrod Buhner
"The Calcium Bomb" by Douglas Mulhall and Katja Hansen
"Big Oil and Their Bankers…" by Dean Henderson
"Pyramid of Fire" by John Major Jenkins and Martin Matz
"The Cost of a Discovery" by Loïc Le Ribault
"The Brother of Jesus and the Lost Teachings…" by Jeffrey J. Bütz
"The True Meaning of the Da Vinci Code" by Robert Pope
"Mystery of the Two Jesus Children" by B. Nesfield-Cookson
"UFO Crash in Brazil" by Dr Roger K. Leir
"Welcome to the Dance: Caffeine Allergy…" by Ruth Whalen
"Powerdown" by Richard Heinberg
"Coconut Cures" by Bruce Fife, ND
"Forbidden History" edited by J. Douglas Kenyon
"Collapse" by Jared Diamond
DVDs & Videos
"The Charlie Hall Story" by Paola L. Harris and David Coote
"Circle Speak" from New Land Films
"Stairways to Heaven" from Awaken Productions
Music
"Echu Mingua" by Miguel "Angá" Díaz
"Spirit of Havana" by Kargo
"Dakshina" by Deva Premal
"Divine Devotion" by Sacred Earth
"Tantra of Sound Harmonizer" by Jonathan & Andi Goldman