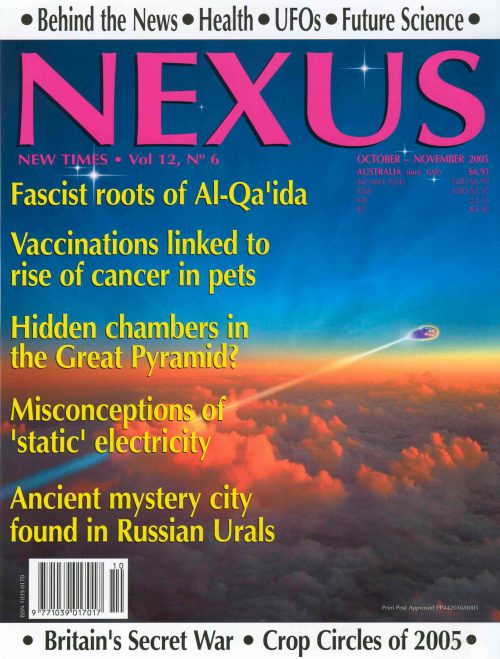 Volume 12, Number 6 – downloadable
$6.60
Volume 12, Number 6 complete issue downloadable pdf file.
Description
LETTERS TO THE EDITOR
Comments from readers on NEXUS-related topics.
GLOBAL NEWS
This edition includes reports that key evidence in the Lockerbie bombing was faked, and that the Pentagon is devising scenarios for US martial law.
BRITAIN'S SECRET WAR IN ANTARCTICA—Part 2/2
By James Robert. While several high-ranking Nazis would have known about the Antarctic ice haven, Grand Admiral Dönitz held the trump card with his knowledge of U-boat movements.

MUSLIM BROTHERHOOD, NAZIS & AL-QA'IDA
A speech by John Loftus. Al-Qa'ida has its roots in an Arab fascist group that was set up in the 1920s, funded by Hitler, used by British, French and American intelligence after WW II, supported by the Saudis and reactivated by the CIA.
PET VACCINATION: INSTITUTIONALISED CRIME
By Catherine O'Driscoll. Vaccines can compromise the health of your pet, causing a range of side effects from allergies to cancer, and annual booster shots are unnecessary and often harmful.
VACCINATIONS: DYNAMICS OF CRITICAL DAYS
By Dr Viera Scheibner. Babies and young children can have severe adverse reactions at critical intervals following their shots, and mounting evidence suggests SIDS is linked with vaccinations.
MISSING CHAMBERS OF THE GREAT PYRAMID
By James Colmer. According to this new theory developed utilising geometry and 3-D graphics, the Great Pyramid may have an identical but mirrored set of chambers and passageways aligned due south. Together, the two chambers within could create a powerful electric circuit.

SCIENCE NEWS
In this edition, electrical engineer William J. Beaty explains the common misconceptions about "static electricity" and suggests fixing the confusion by emphasising terms like "charge imbalance".
UFOs ON CAPITOL HILL—Part 2
An interview by Robert Stanley. The photographer who captured images of UFO and alien activity on Capitol Hill in July 2002 reveals stunning details about his photo analyses and close encounters.
CROP CIRCLES OF 2005
By Andy Thomas. This year's harvest of crop circles included bold angular formations, optical illusions and striking developments on previous themes, while the media were largely in denial.
THE TWILIGHT ZONE
This edition, a military nuclear specialist speaks out on UFOs, a Tunisian astrologer predicts some high-level assassinations by the end of 2005, and Russian scientists are perplexed over anomalous findings at an ancient Aryan town being excavated in the Urals.
REVIEWS—Books
"In Defence of Astrology" by Robert Parry
"Twilight in the Desert" by Matthew R. Simmons
"Twenty Thirst Century" by John Archer
"Selling Sickness" by Ray Moynihan & Alan Cassels
"Lost Star of Myth and Time" by Walter Cruttenden
"Hair of the Alien" by Bill Chalker
"Shock to the System" by Catherine O'Driscoll
"The Men Who Stare At Goats" by Jon Ronson
"From Light into Darkness" by Stephen S. Mehler
"13-Moon Diary…" by Nicole. E. Zonderhuis & Sylvia Carrilho
"The Serpent Grail" by Philip Gardiner with Gary Osborn
"The Shadow of Solomon" by Laurence Gardner
"Confessions of an Economic Hit Man" by John Perkins
"Beyond Belief" by Roger Cross and Avon Hudson
DVDs & Videos
"What the Bleep Do We Know!?"
"The Great Year: How much did the ancients really know?"
"Cereal Worm Holes: Part II – Conduit Closing"
Music
"In the Heart of the Moon" by Ali F. Touré & Toumani Diabaté
"The Very Best of North Africa" by various artists
"Sleeping Lotus" by Li Xiangting
"La Kahena" by Cheb i Sabbah
"Mali" by various artists