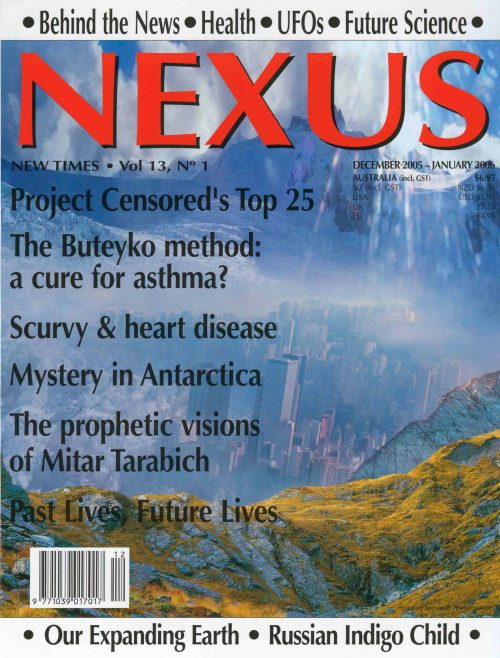 Volume 13, Number 1 – downloadable
$6.60
Volume 13, Number 1 complete issue downloadable pdf file.
Description
LETTERS TO THE EDITOR
Comments from readers on NEXUS-related topics.
GLOBAL NEWS
This edition we include reports on British and European attempts to break America's grip on the Internet, state-sponsored terrorism in Indonesia, and an animal-based experiment that shows intergenerational damage from eating GM food.
PROJECT CENSORED'S TOP 25 STORIES
Compiled by the Project Censored Team.  The corporate media continue to ignore inconvenient and uncomfortable news, as this summary of the top 25 "censored" stories for 2004–05 aptly shows.

BRITAIN'S SECRET WAR IN ANTARCTICA—Part 3/3
By James Robert.  The Antarctica mystery deepens as we learn more about Norwegian, German, British and American expeditions from the 1930s and nuclear detonations in the 1950s and 1960s.
ASTHMA:  IGNORANCE OR DESIGN?
By Jennifer Stark.  Buteyko breathing techniques have a track record in controlling and reversing the symptoms of asthma and removing the need for medication—a big threat to the drug companies.
CHRONIC SCURVY AND HEART DISEASE
By Dr Owen R. Fonorow.  Heart disease is chronic scurvy in disguise, but it can be remedied by taking high doses of vitamin C and lysine—a therapy pioneered by Dr Linus Pauling, but which is at risk if new Codex Alimentarius guidelines are adopted.

SCIENCE NEWS
In this edition, geologist Dr James Maxlow presents an update of his research into our expanding Earth, refuting the popularly held theory of plate tectonics.
PAST LIVES, FUTURE LIVES AND TIME
By Ian Lawton.  Karma involves choices and learning, not predestination and reaction to past events, in this "rational spiritual" view that looks at past life regression, future life progression and time.
THE PROPHECIES OF MITAR TARABICH
Edited by Neo.  A Serbian peasant who lived in the 19th century, Mitar Tarabich had an uncanny ability to predict the future of his people and still has surprises in store for us in the 21st century.
THE TWILIGHT ZONE
In this edition we run David Wolin's report on the mysterious November 1965 US East Coast power blackout and accompanying UFO activity, plus news of an unusual "indigo" child in Russia who has predicted disasters for our planet in 2009 and 2113.
REVIEWS—Books
"Additive Alert:  Your Guide to Safer Shopping" by Julie Eady
"Supernatural" by Graham Hancock
"Secrets of the Holy Lance" by Jerry E. Smith & George Piccard
"The Secret History of Freemasonry" by Paul Naudon
"Turning the Hiram Key" by Robert Lomas
"Colloidal Minerals and Trace Elements" by M.-F. Muller
"Perpetual Motion" by Arthur W. J. G. Ord-Hume
"Slim Spurling's Universe" by Cal Garrison
"Invisible Residents" by Ivan T. Sanderson
"The Giza Death Star Destroyed" by Joseph P. Farrell
"Thunderbolts of the Gods" by D. Talbott and W. Thornhill
"Children Who Communicate…" by Bauer, Hoffmeister & Georg
"Beyond 2012 – Catastrophe or Ecstasy" by Geoff Stray
"Terra Non Firma Earth" by Dr James Maxlow
DVDs & Videos
"Mind Control:  A Brave New World…" by Dr Nick Begich
"Technologies in the 21st Century" by Dr Nick Begich
"Not The Cooking Show" with Paul Benhaim
Music
"Music of Balkan Gypsies" by various artists
"Healing Bells" by Xumantra
"Voyage" by Monte Cristo
"Jaya Bhagavan" by Tina Malia and Shimshai
"Fire Drums" by various artists