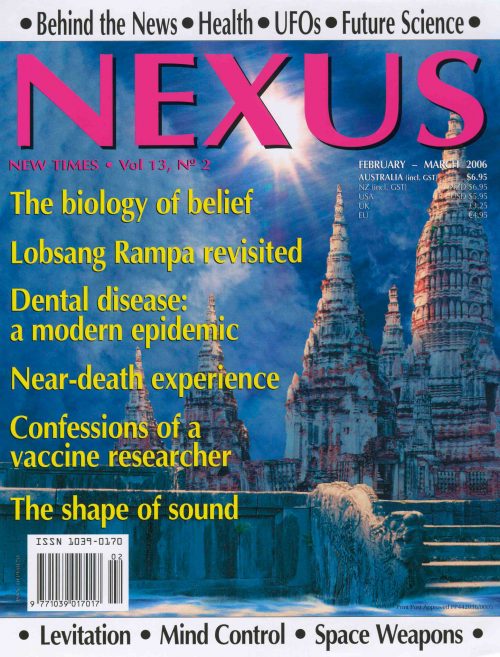 Volume 13, Number 2 – downloadable
$6.60
Volume 13, Number 2 complete issue downloadable pdf file.
Description
LETTERS TO THE EDITOR
Comments from readers on NEXUS-related topics.
GLOBAL NEWS
This edition we include reports on Alzheimer's disease as a type of diabetes, a new G110 group that's formed against the USA and EU, and a British MP's call for an urgent ban on aspartame.
VACCINE DANGERS AND VESTED INTERESTS
Introduction & interview by Jon Rappoport.  Retired vaccine researcher "Dr Mark Randall" goes public on what's wrong with vaccines, the industry that makes them and the experts that approve them.

DENTAL DISEASE:  A MODERN PLAGUE
By David Zeoli, ND.  The industrialised world has a dental disease epidemic due to poor nutrition from eating foods grown in depleted soils and further denatured by commercial processing.
THE BIOLOGY OF BELIEF:  Conscious Parenting
By Bruce Lipton, PhD.  New evidence confirms that children are influenced by subconscious patterning before birth and throughout childhood.
MIND CONTROL:  BRAVE NEW WORLD—Part 1/2
By Nick Begich, MD.  Some technologies for stimulating the brain and controlling the mind may have benefits, but military/intelligence powers regard them as essentials on today's battlefields.

SCIENCE NEWS
Peter Pettersson discusses landmarks in acoustics, the science of sound, and exciting discoveries in cymatics, the study of how vibrations generate and influence patterns, shapes and moving processes.
T. LOBSANG RAMPA: TRAILBLAZER—Part 1/2
By Karen Mutton.  Fifty years after The Third Eye's publication, it's time to reconsider the life and works of T. Lombsang Rampa, a self-declared Tibetan high lama and pioneering "walk-in".
USING SPACE WEAPONS AGAINST ETs
By Michael E. Salla, PhD.  The US government with its space weapons push may have a hidden agenda to combat extraterrestrial visitors, but has it judged the security "threat" correctly?
THE TWILIGHT ZONE
The story of the miraculous survival of Shelley Yates and her son, and the message sent by light beings "on the other side"; plus a brief history of levitation, an art still practised by Tibetan and Indian monks.
REVIEWS—Books
"Miracle Healing" by Harald Tietze
"Jesus Goes to Hollywood" by William Bramley
"Consciousness, Intent & Structure of the Universe" by J. Keen
"The Geometry of the Sun God" by Keith Squires
"The Oracle" by Michael J. Roads
"Jason, My Indigo Child" by Ann Andrews
"The Book of the Soul" by Ian Lawton
"Gnosis" by Philip Gardiner
"T. Lobsang Rampa:  New Age Trailblazer" by Karen Mutton
"Heavenly Lights" by Dr J. Fernandes and Fina d'Armada
"The Yes Men" by Bichlbaum, Bonanno and Spunkmeyer
"Oracle of the Illuminati" by William Henry
"The Secret History of the West" by Nicholas Hagger
"Conversations on the Edge of the Apocalypse" by D. J. Brown
DVDs & Videos
"Pythagoras, Pentagrams & The Phi Ratio" by Dr. S. D'Montford
"Mark Thomas Comedy Show" from Undercurrents
"Nutrition Rules!" by Graeme Sait
Music
"Lamp Fall" by Cheikh Lô
"Asian Lounge" by various artists
"Chakradance" by various artists
"Earth" by Peter Kater
"Music for Crocodiles" by Susheela Raman