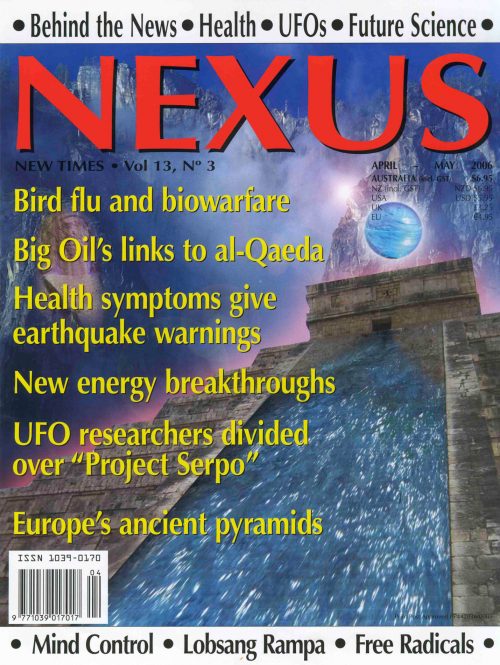 Volume 13, Number 3 – downloadable
$6.60
Volume 13, Number 3 complete issue downloadable pdf file.
Description
LETTERS TO THE EDITOR
Comments from readers on NEXUS-related topics.
GLOBAL NEWS
We report on signs that the US may be preparing for martial law, moves to introduce a world currency, and data showing that depleted uranium particles travelled on air currents to the UK.
AL-QAEDA, US OIL AND CENTRAL ASIA
By Peter Dale Scott.  US oil companies and the military destabilised Central Asia and the Balkans in the 1990s, promoting the spread of Islamist jihadists and the Afghan heroin trade.

ACHES TO QUAKES – EARTHQUAKE SENSITIVES
By Larry A. Park.  Mysterious Earth signals can be detected by "sensitives" as physical symptoms which give accurate warnings about impending earthquakes.  New sensor technologies are now being developed to explore these signals.
FREE RADICALS AND THE WHOLE ORGANISM
By Roger Taylor.  Free radicals have been given a bad name as factors in disease and ageing, but they are crucial to generating the light energy needed to organise and fuel biochemical processes.
AVIAN FLU OR MYCOPLASMA PANDEMIC?
By Donald W. Scott and William L. C. Scott.  If a pandemic disease with "flu-like" symptoms strikes, it won't be caused by a mutated bird flu virus but by a Mycoplasma agent engineered for biowarfare.
MIND CONTROL:  BRAVE NEW WORLD—Part 2/2
By Nick Begich.  New technologies utilising sound waves and electrostimulation of the brain can be used to control the mind, change behaviour and transfer thoughts for good or ill.

SCIENCE NEWS
This edition we highlight advances in new energy research including "hydrino" power, a super-efficient solar panel, the Hutchison effect, music as medicine and a generator that turns wave energy into wattage.
T. LOBSANG RAMPA:  TRAILBLAZER—Part 2
By Karen Mutton.  A self-declared transmigrated  Tibetan high lama, Rampa inspired his readers and angered critics with his tales about old and new Tibet, ancient rituals, aliens and inner-worlders.
ANCIENT PYRAMIDS DISCOVERED IN EUROPE
By Philip Coppens.  Pyramid-shaped hills in Italy and Bosnia are being surveyed, and preliminary findings suggest that the territory of the megalithic pyramid builders was wider than supposed.
THE TWILIGHT ZONE
Michael Salla investigates the Project Serpo material about an alleged alien exchange program involving 12 US military personnel from 1965 to 1978, and suggests it could be part of a disinformation plot.
REVIEWS—Books
"Half Gone" by Jeremy Leggett
"The Syndicate" by Nicholas Hagger
"The Collapse of Globalism…" by John Ralston Saul
"The Fall" by Steve Taylor
"In Tune with Infinite Powers" by Tony Talmage
"Confessions of a Radical Traditionalist" by John Michell
"Life Before Life" by Dr Jim B. Tucker
"Beyond Reincarnation" by Joe H. Slate, PhD
"MAJIC Eyes Only" by Ryan S. Wood
"UFOs Over California" by Preston Dennett
"Brave New World of Zero Risk" by Martin J. Walker
"An Overview of Extraterrestrial Races" by Rolf Waeber
"Yajé:  The New Purgatory" by Jimmy Weiskopf
"Tranceformers" by John Jay Harper
DVDs
"The Mayan Calendar Comes North" with Ian Xel Lungold
"Secrets of Alchemy" with Jay Weidner
"Quantum Astrology" with Rick Levine
Music
"Shaman Woman" by Vicki Hansen
"The Caribbean" by various artists
"Inyan" by Sacred Earth
"Beyond the Moon" by Chris Shakallis
"Shadow, Mist & Light" by Peter Sterling