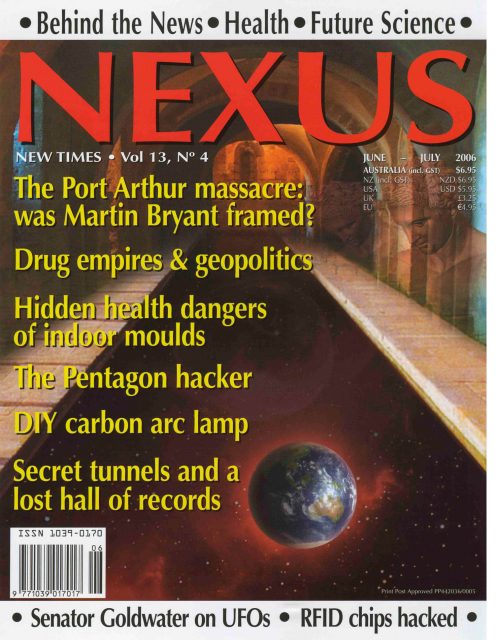 Volume 13, Number 4 – downloadable
$6.60
Volume 13, Number 4 complete issue downloadable pdf file.
Description
LETTERS TO THE EDITOR
Comments from readers on NEXUS-related topics.
GLOBAL NEWS
We report on American physicists' protests against US nuclear policy, high-voltage electricity doses that kill cancer cells, RFID chip hacking and more.
WAS MARTIN BRYANT FRAMED?—Part 1/3
By Carl Wernerhoff.  It's been 10 years since the massacre at Port Arthur, Tasmania, but authorities still ignore concerns that there is no firm evidence implicating Martin Bryant as the gunman.

HEALTH DANGERS OF INDOOR MOULDS
By Luke Curtis et al.  Moulds and the mycotoxins they produce are a major health threat around the world.  Tests to detect their presence and aid diagnosis need to be adopted on a wide scale.
THE FAR WEST DRUG META-GROUP—Part 1/2
By Peter Dale Scott.  The international drug traffic serves not just local drug lords and their armies but powerful political and economic interests, particularly in Russia and America.
PARASITE ELIMINATION:  CARBON ARC LAMP
By Carmi B. Hazen.  An early 20th-century technology utilising high-energy, full-spectrum light has been rediscovered in the fight against parasites.
THE SCALE-EXPANDING COSMOS THEORY
By C. Johan Masreliez.  A new model of cosmic scale expansion agrees better with astronomical observations than the Big Bang theory does, and may provide the missing link between general relativity and quantum mechanics.

SCIENCE NEWS
This edition we feature the Rainbox water generator that extracts water from air, the "Massive Yet Tiny" engine that has a high power-to-weight ratio, and Marcus Reid's crystal units that run on ambient heat or perhaps the energy of the vacuum.
SENATOR BARRY GOLDWATER ON UFOs
By Clark C. McClelland.  A chance encounter with Senator Barry Goldwater during the Apollo 11 launch countdown was an opportunity to discuss classified information on UFO sightings.
THE QUEST FOR THE METAL LIBRARY
By Philip Coppens.  A system of tunnels and caves beneath Ecuador and Peru is said to hold an ancient treasure-house of artefacts including two libraries, one containing inscribed metal books.
THE TWILIGHT ZONE
Our news from "out there" includes the UFO revelations of "Pentagon hacker" Gary McKinnon, who faces extradition to the USA; and testimony from a former military intelligence analyst who saw UFO evidence in his work with photo-interpreters.
REVIEWS—Books
"The Electric Mirror on the Pharos Lighthouse…" by L. B. Radka
"The Sion Revelation" by Lynn Picknett and Clive Prince
"The Chaos Point" by Ervin Lazslo
"Conversations with the Soul" by Lawrence Follas
"Work Wonders:  Feed…Raw Meaty Bones" by Tom Lonsdale
"The Hidden Story of Cancer" by Brian Peskin with Amid Habib
"Iraq Confidential" by Scott Ritter
"Genuine Freedom" by Matt Engelman
"Cancer:  Its Cause and Treatment…" by Robert Bell, MD
"An American Demonology" by Colin Bennett
"Conscious Healing:  the Regenetics Method" by Sol Luckman
"The Great War for Civilisation" by Robert Fisk
"The Ringing Cedars Series" by Vladimir Megre
DVDs
"Rooted:  Dangers of Root Canal Therapy" by Robert Gammal
"Secret Space:  The Illuminati's Conquest of Space" by Enigma TV
"lightSOURCE with Hemi-Sync:  A Sacred Geometry Experience"
Music
"One World, One Kid" by various artists
"A Visit to Ali Farka Touré" by Marc Huraux
"Música Para Después de Almuerzo" by Bitman & Roban
"Honoring" by various artists
"Brazilian Lounge" by various artists