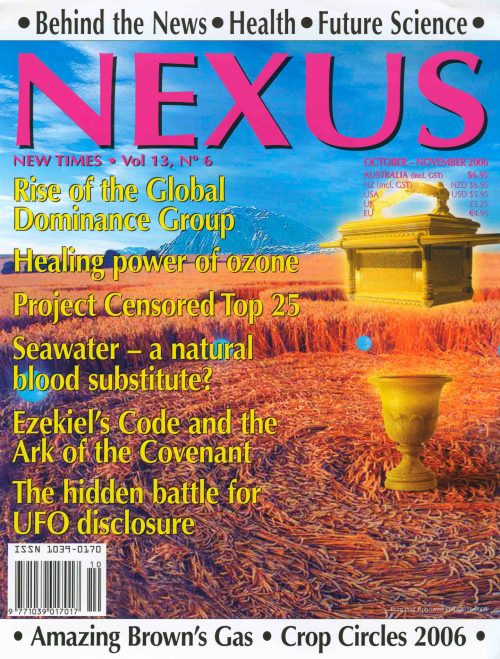 Volume 13, Number 6 – downloadable
$6.60
Volume 13, Number 6 complete issue downloadable pdf file.
Description
LETTERS TO THE EDITOR
Comments from readers on NEXUS-related topics.
GLOBAL NEWS
We report on George W. Bush's strategy on conspiracy theories, the recent aircraft bomb terror plot in the UK, and Project Censored's list of the 25 most suppressed news stories of the last year.
WAS MARTIN BRYANT FRAMED?—Part 3/3
By Carl Wernerhoff. Martin Bryant could never have perpetrated the horrendous massacre at Port Arthur in 1996 because he wasn't even there. Instead, it's likely he was already in police custody.

SEAWATER: A BLOOD PLASMA SUBSTITUTE?
By Dianne Jacobs Thompson. Diluted seawater was shown over a century ago to serve as a blood tranfusion alternative in animal tests, but no human trials have ever been conducted.
THE GLOBAL DOMINANCE GROUP
By Peter Phillips, Bridget Thornton, Celeste Vogler. Neo-conservatives within the American ruling class are hellbent on a quest for world domination, with the help of a powerful military-industrial complex.
MEDICAL APPLICATIONS OF OZONE GAS
By Carmi B. Hazen. Bio-oxidative therapies have a long history of healing in Europe but are little known elsewhere. A home-based treatment that mixes ozone with steam has proven benefits.
EZEKIEL'S CODE & THE ARK OF THE COVENANT
By Philip Coppens. Finnish surveyor and scholar Dr Juvelius organised an expedition to Jerusalem in 1909–11 to search for the lost Ark of the Covenant, inspired by clues he'd found in the Book of Ezekiel.

SCIENCE NEWS
This edition we feature the amazing properties of Brown's Gas, with its diverse applications in everything from welding and water purifying to healing wounds and neutralising toxic waste.
"MR X" SPEAKS OUT ON SECRET UFO ARCHIVES
Interview by Bill Ryan & Kerry Cassidy. Employed by a US aerospace defence contractor in the 1980s, "Mr X" had a six-month job filing archival material attesting to the UFO/ET presence on Earth.
CRYPTIC CANVASES: CROP CIRCLES OF 2006
Introduction by Andy Thomas. It was the slowest start to an English crop circle season in years, but several masterful designs with stunning three-dimensional effects delighted beholders.
THE TWILIGHT ZONE
Our news from "out there" features an extract from the new book by UFO disclosure advocate Dr Steven Greer, in which he recounts his brushes with the inner circles of a shadowy transnational cabal.
REVIEWS—Books
"Fulcanelli and the Alchemical Revival" by Geneviève Dubois
"The Secret Vault" by André Douzet and Philip Coppens
"Beyond the Indigo Children" by P. M. H. Atwater
"Egypt: 'Image of Heaven'" by Willem H. Zitman
"Before the Pharaohs" by Edward F. Malkowski
"In Search of the Southern Serpent" by H. Miller & B. Brailsford
"They Lied to Us in Sunday School" by Ian Ross Vayro
"The Jesus Papers" by Michael Baigent
"The Green Man and the Dragon" by Paul Broadhurst
"Hidden Truth – Forbidden Knowledge" by Steven M. Greer
"The Powerwatch Handbook" by Alasdair & Jean Philips
"A Handy Way to Cook Your Brain" by D. and O. James
"Parapolitics" by Kenn Thomas
"The SS Brotherhood of the Bell" by Joseph P. Farrell
DVDs
"2012: The Odyssey" with Sharron Rose
"Walking Softly with Koa" by Mark Jago
"Flight from Death: The Quest for Immortality" from Accent
Music
"Guitar Meditations" featuring Billy McLaughlin
"Didgeridoo Trance Dance 2" by various artists
"Toumani Diabaté's Symmetric Orchestra"
"Music from the Wine Lands" by various artists
"Call of the Mystic" by Bahramji & Maneesh De Moor