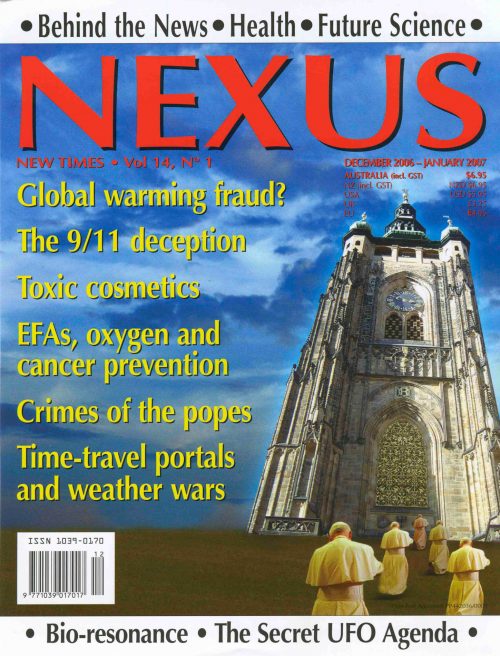 Volume 14, Number 1 – downloadable
$6.60
Volume 14, Number 1 complete issue downloadable pdf file.
Description
LETTERS TO THE EDITOR
Comments from readers on NEXUS-related topics.
GLOBAL NEWS
We report on China's use of laser weapons against American spy satellites, a ruling by the British Law Lords that allows a public interest defence for serious journalism, and a New Zealand Coroners' Council report confirming that natural medicines caused no deaths and presented no safety risks.
DECEPTIONS OF 9/11: THE CHANGING TIDE
By Michael W. Mandeville. Increasing numbers of anti-war and 9/11 Truth Movement activists are exposing the lies perpetrated by sinister forces in the Anglo-American-Zionist establishment who are alleged to be behind a series of terrorist plots.

EFAs, OXYGENATION & CANCER PREVENTION
By Prof. Brian Scott Peskin. Cancer as well as heart disease can be treated and prevented by taking a specific daily ratio of parent omega-6 to omega-3 essential fatty acids to allow the optimal transfer of oxygen from the cell membranes into the cells.
THE UGLY TRUTH ABOUT BEAUTY PRODUCTS
By Charu Bahri. We're reducing exposure to toxins by choosing organic foods, but we're still to apply this thinking to cosmetic and hygiene products, whose chemical and often carcinogenic ingredients usually don't have to be listed on the labels.
THE CRIMINAL HISTORY OF THE PAPACY—Part 1/3
By Tony Bushby. Far from being pious followers of Jesus Christ, as the Catholic Church would have us believe, a great many of the popes performed acts of corruption, cruelty, debauchery, genocide, greed, terror and warfare. This edition focuses on some papal scandals of the ninth to 13th centuries.
APOCALYPSE CANCELLED: GLOBAL WARMING
By Christopher Monckton. Scientists questioning the consensus view on global warming argue that the "hockey stick" graph used by the UN is based on a faulty algorithm and poor scientific analysis.

SCIENCE NEWS
This edition we feature Dr Michael E. Godfrey's article on bioresonance as the 21st century's new medicine, with reference to Dr Jacques Benveniste's molecular memory findings and case studies on the healing success of electrodermal screening.
SHADOW GOVERNMENT'S UFO AGENDA—Pt 1/2
By Steven M. Greer, MD. With its arsenal of reverse-engineered craft and electromagnetic psy-ops weapons, the global shadow government has been faking alien abduction scenarios and may still be planning to stage an alien invasion of Earth.
THE TWILIGHT ZONE
Our news from "out there" features an interview by Project Camelot's Bill Ryan and Kerry Cassidy with Livermore physicist "Henry Deacon" on UFOs, ETs, time-travel portals and weather warfare.
REVIEWS—Books
"Out of the Dreamtime" by Rex and Heather Gilroy
"Hollow Earth" by David Standish
"Cracking the Symbol Code" by Tim Wallace-Murphy
"The Shining Ones" by Philip Gardiner and Gary Osborn
"A Fresh Approach to Magnetism" by Thomas T. S. Watson
"The World Cataclysm in 2012" by Patrick Geryl
"Conspiracy of Silence: UFOs in Ireland" by Butler and Nally
"Need to Know" by Timothy Good
"Stop America's #1 Killer!" by Thomas E. Levy, MD, JD
"When The Rivers Run Dry" by Fred Pearce
"The Terror Conspiracy" by Jim Marrs
"The Secret History of the World…" by Laura Knight-Jadczyk
"The God-Kings of Europe" by Hugh Montgomery
"Redemption Manual" edited by Robert Kelly
CDs & DVDs
"Earth Changes – The Ripple Effect", by Dr Nick Begich
"Terrorstorm" by Alex Jones
"The Illuminati – Volume II" by Christopher Everard
Music
"Secrets of Seduction" by Enigmatic Obsession
"Acoustic Africa" by various artists
"In Praise of the Goddess" by the Mallik Family
"West African Gold" by various artists
"Elysium for the Brave" by Azam Ali