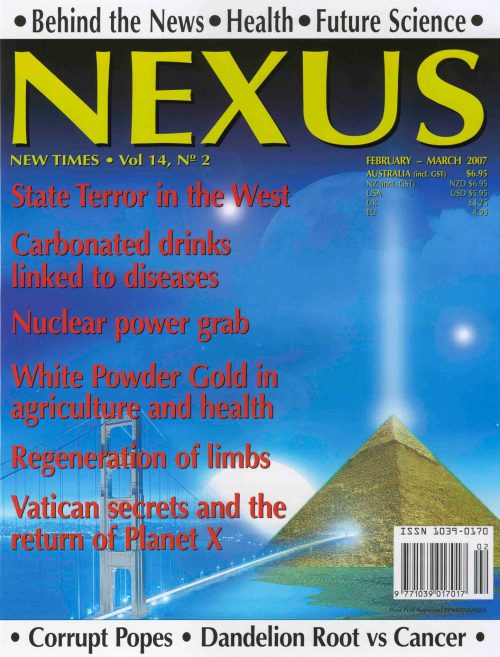 Volume 14, Number 2 – downloadable
$6.60
Volume 14, Number 2 complete issue downloadable pdf file.
Description
LETTERS TO THE EDITOR
Comments from readers on NEXUS-related topics.
GLOBAL NEWS
We report on a DNA computer breakthrough, evidence that the ancient Egyptians used concrete in the pyramids, and fears for Merck's cervical cancer vaccine that's targeted at young girls.
NUCLEAR POWER GRAB IN EUROPE?
By Corporate Europe Observatory. Lobbyists and some European Parliament members are working together to spin the nuclear option as a solution to global warming and energy supply problems.

STATE-SPONSORED TERROR IN THE WEST
By Philip Coppens. Terrorist attacks in many Western nations tend to be blamed on left- or right-wing activists but are actually state sponsored to foment fear and fulfil hidden agendas.
DANDELION ROOT: A CURE FOR CANCER?
By George Cairns; introduced by R. Webster Kehr. A prostate cancer sufferer who was instructed by an inner voice to use dandelion root and how to prepare it, cured himself when nothing else helped.
CARBONATED DRINKS: POISON IN DISGUISE?
By Charu Bahri. Consumption of fizzy soft drinks, caffeinated colas and energy drinks is at an all-time high among teenagers, but the ingredients of these beverages have been shown to have disastrous side effects including bone loss and diabetes.
MAGIC AND MYSTERY OF ORMUS ELEMENTS
By Dr Roger Taylor. Chemical elements called ORMUS with unusual antigravitic, superconductive and quantum-tunnelling properties are being used in preparations which are already providing benefits in agriculture, health and the environment.
THE CRIMINAL HISTORY OF THE PAPACY – Pt 2/3
By Tony Bushby. Many popes of the 13th to 16th centuries continued their predecessors' corrupt, criminal, bloodthirsty and debauched practices, but the Vatican tries to hide this inconvenient history.

SCIENCE NEWS
This edition we feature Bengt Larsson's article on regeneration of mammalian body parts, and Roger Shawyer's microwave-powered relativity drive that may revolutionise the space industry.
SHADOW GOVERNMENT'S UFO AGENDA—Pt 2/2
By Dr Steven M. Greer. Clandestine groups with vested interests in corporate, financial, geopolitical and religious arenas are involved in super-secret "black" projects with a focus on alien technology.
THE TWILIGHT ZONE
Our "out there" news includes Luca Scantamburlo's discussion on "the Jesuit footage" of the approaching Planet X, and Cristoforo Barbato's interview with an insider from the Vatican's intelligence service, SIV.
REVIEWS—Books
"The Encyclopedia of Conspiracy Theories", ed. Thom Burnett
"The Celtic Chronicles" by Maurice Cotterell
"Close Encounters on Capitol Hill" by Robert M. Stanley
"The Keepers" by Jim Sparks
"Is There Life After Death?" by Anthony Peake
"Catastrophe?" by Keith Foster, FLS
"Weather Warfare" by Jerry E. Smith
"Tayos Gold: The Archives of Atlantis" by Stan Hall
"Political Ponerology" by Andrzej M. Lobaczewski
"The Oil Depletion Protocol" by Richard Heinberg
"The Orion Zone" by Gary A. David
"Crop Circles" by Steve and Karen Alexander
"Beyond Photography" by Katie Hall and John Pickering
"Controlling the Human Mind" by Dr Nick Begich
CDs & DVDs
"Beyond the Cage" produced by Kickstart Media for AAHR
"The Truth about Diabetes: The Natural Diabetes Solution"
"Bush Tucker Man" presented by Les Hiddins
Music
"One World, Many Cultures" by various artists
"World Circuit Presents" by various artists
"State of Grace III" by Paul Schwartz
"Shiva Machine" by Girish
"Beholding the One in All" by Paramahansa Yogananda