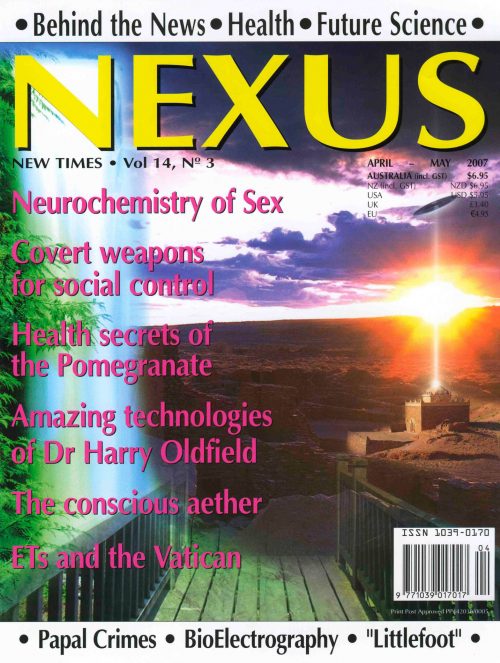 Volume 14, Number 3 – downloadable
$6.60
Volume 14, Number 3 complete issue downloadable pdf file.
Description
LETTERS TO THE EDITOR
Comments from readers on NEXUS-related topics.
GLOBAL NEWS
We report on declining media freedom in the USA, a study linking GM potato consumption to cancer, and the soaring death rate from prescription drugs.
EM WEAPONS AND HUMAN RIGHTS
By Peter Phillips, Lew Brown and Bridget Thornton. The US military-industrial-intelligence complex is armed with an array of electromagnetic weapons, ready to be deployed against inconvenient dissenters and in contravention of civil rights.

POMEGRANATE: FRUIT OF THE TREE OF LIFE
By Tom Storey. The pomegranate's rich mythology is corroborating scientific and medical discoveries about the fruit's abundant antioxidants and nutrients and their benefits in health and healing.
SEXUAL ENERGY IN HEALTH – Pt 1/2
By Walter Last. Understanding the neurochemistry and bio-energetics of sexuality can help us create healthier, more loving, more stable and more spiritualised relationships.
HARRY OLDFIELD'S IMAGING TECHNOLOGIES
By Evy King. British biologist Dr Harry Oldfield has developed revolutionary imaging systems that offer the health practitioner ways of seeing a patient's bio-energetic field to assist in diagnosis and treatment, and can peer into other dimensions.
THE NEW BIOELECTROGRAPHY
By Dr Roger Taylor. A technical advance that improves on Kirlian photography, bioelectrography extends the possibilities for dependable diagnosis and provides feedback on the effects of therapy.

SCIENCE NEWS
In this edition, we feature David Wilcock's summary of the work of Russian astrophysicist Dr Nikolai A. Kozyrev, demonstrating that physical matter is formed by an "aether" of invisible, conscious energy.
THE CRIMINAL HISTORY OF THE PAPACY – Pt 3/3
By Tony Bushby. Modern Roman Catholic Church historians hide the bellicosity, depravity and greed of so many of the popes and instead present images of pious and humble patriarchs of the people.
CLOSE ENCOUNTERS WITH "LITTLEFOOT"
By Tony Healy and Paul Cropper. Little hairy ape-men or "junjudees" have been seen and reported by Aborigines and new Australians up to the present day, and they may have Flores "hobbit" roots.
THE TWILIGHT ZONE
Our "out there" news this edition features the second part of Cristoforo Barbato's interview with a Vatican intelligence insider who divulges more details of the Church's involvement with ETs and radioastronomy.
REVIEWS—Books
"State Secrets II: Return Fire" by Ben C. Vidgen
"The Science of Extraterrestrials" by Eric Julien
"Child Exodus from Tibet" by Birgit van de Wijer
"Camouflage Through Limited Disclosure" by Randy Koppang
"The Twin Deception" by Tony Bushby
"Induced After Death Communication" by Allan L. Botkin
"Living in a Fascist Country" by Vernon Coleman
"The End of Suffering" by Russell Targ and J. J. Hurtak, PhD
"Sacred Number and the Origins of Civilization" by R. Heath
"Forbidden Religion" edited by J. Douglas Kenyon
"The Yowie" by Tony Healy and Paul Cropper
"Asbestos House" by Gideon Haigh
"The Cygnus Mystery" by Andrew Collins
"The Electric Sky" by Donald E. Scott
CDs & DVDs
"Spiritworld" produced and directed by Chris Everard
"The Truth About Hypertension" from Health Educational Program
"The Heavenly Gait & Other Earthly Pleasures" by David Hall
Music
"Women of the World: Acoustic" by various artists
"Wátina" by Andy Palacio & the Garifuna Collective
"An Other Cup" by Yusuf
"Pranah" by Mark Biehl
"Infinite Voice" by Darlene Koldenhoven