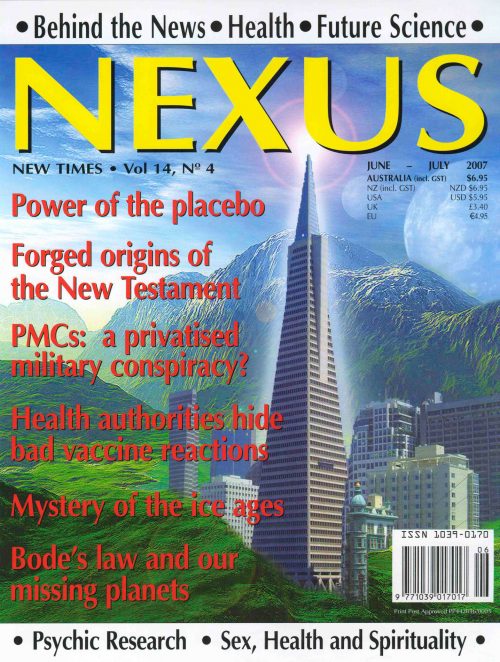 Volume 14, Number 4 – downloadable
$6.60
Volume 14, Number 4 complete issue downloadable pdf file.
Description
LETTERS TO THE EDITOR
Comments from readers on topics including mycoplasma detection and the nucler power push.
GLOBAL NEWS
We report on Monsanto's revoked GM soybean patent, bee colony collapse disorder linked to mobile phone radiation, ocean circulation as a factor in global warming, and the next generation of video games that interact with brain waves.
THE BUSH GOVERNMENT'S SHADOW ARMY
By Jeremy Scahill. Blackwater is one among many private military contractors that are part of the Bush administration's "Total Force" in the USA and foreign war zones but operate with impunity.

CHICKENPOX VACCINE: A CYCLE OF DISEASE
By Gary S. Goldman, PhD. The Universal Varicella Vaccination Program in the USA has caused secondary chickenpox and shingles outbreaks, but health authorities have covered up the risks.
THE POWER OF THE PLACEBO EFFECT
By Peter Arguriou. Placebos are often more efficacious than the drugs tested in clinical trials, and science now suggests a biochemical substrate as well as a psychological component to the effect.
SEXUAL ENERGY IN HEALTH—Part 2/2
By Walter Last. Ancient spiritual traditions and modern modes of relating sexually with our partners can assist in overcoming health problems, improving vitality and increasing longevity.
MELTING THE MYSTERY OF THE GREAT ICE AGE
By Edward F. Malkowski. Research into glaciation cycles began in the 19th century, but scientists still can't agree on why ice ages occur. Now there's new evidence that a cold epoch is in the wings.

SCIENCE NEWS
We reprint Julian Kane's theory on an undiscovered planet at the edge of the solar system, plus Michael Prescott's retort to years of misinformation on "Project Alpha" psychic research in the early 1980s.
FORGED ORIGINS OF THE NEW TESTAMENT
By Tony Bushby. In the fourth century, the Roman Emperor Constantine created a composite god, and commissioned the writing and compilation of the Gospels and Epistles of the New Testament.
THE TWILIGHT ZONE
Our "out there" news features an extract from Genesis for the New Space Age, an unpublished 1980 book in which author John B. Leith speaks of secret government programs to construct "round-wing" craft and communicate with aliens.
Books
"The Templar Pirates" by Ernesto Frers
"The Lords of Avaris" by David Rohl
"Parallel Universes of Self" by Frederick E. Dodson
"Courageous Souls" by Robert Schwartz
"How to Swap Asthma for Life" by Michael Clark
"The Intention Experiment" by Lynne McTaggart
"The Ark, The Shroud, and Mary" by Philip Gardiner
"Crusade Against the Grail" by Otto Rahn
"In Search of Quetzalcoatl" by Pierre Honoré
"Genesis of Man" by June Austin
"A Game as Old as Empire" edited by Steven Hiatt
"The Chilling Stars" by Henrik Svensmark & Nigel Calder
"How to Start Your Own Secret Society" by Nick Harding
"Ghost Plane" by Stephen Grey
CDs & DVDs
"Thunderbolts – Part 1" produced by D. Talbott and B. G. Low
"The Truth About Childhood Obesity" produced by HEP
"Space Story" by Mayan Animations
Music
"Gypsy Groove" by various artists
"Lion of Africa" by Manu Dibango
"The Shape of Light" by Jeff Ball
"Vieux Farka Touré" by Vieux Farka Touré
"Rahwana's Cry" by SambaSunda