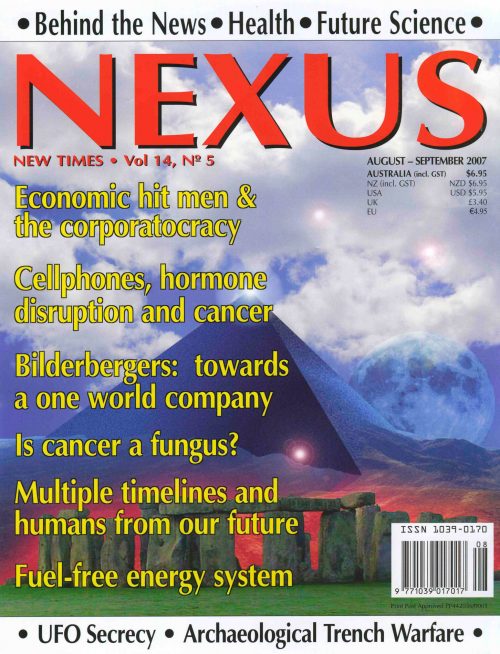 Volume 14, Number 5 – downloadable
$6.60
Volume 14, Number 5 complete issue downloadable pdf file.
Description
LETTERS TO THE EDITOR
Readers' comments on topics from the Sun's harmonic intervals to a hoaxed "second coming".
GLOBAL NEWS
We report on electromagnetic pulse technology, the corporate takeover of US intelligence work, and the testimony of an Iraqi US collaborator exposing the existence of US death squads operating in Iraq.
INTERVIEW WITH AN ECONOMIC HIT MAN
John Perkins interviewed by Amy Goodman. Making amends for the economic, social and environmental devastation he caused as an "EHM", John Perkins now wakes people up to the motives and methods of the corporatocracy.

BILDERBERG 2007: A ONE WORLD EMPIRE?
By Daniel Estulin. This year's Bilderberg Group meeting covered World Bank reforms, global warming, Russia's muscle-flexing on energy issues, Middle East geopolitics, the future of democracy and other subjects in the news, or soon to be.
IS THE CAUSE OF CANCER A FUNGUS?
By Dr Tullio Simoncini. The cause of cancer, says this Italian oncologist, is a common fungus, Candida albicans, and it can be treated with a powerful antifungal agent that can't be patented.
EMR, HORMONE DISRUPTION AND CANCER
By Sherrill Sellman, ND. Electromagnetic radiation is increasingly pervasive in our wired and wireless world, but it plays havoc with our hormones and can lead to a range of diseases including cancers.
EINSTEIN'S RELATIVITY: THE AETHER—Part 1/2
By Dr Bjørn J. Øverbye. Albert Einstein has been hailed for his relativity theories and his humanity, but has always had his critics. Now the consensus view is changing as the nature of the aether and theories of classical physics are re-examined.

SCIENCE NEWS
We highlight W. David Barclay's Field Frequency Modulator, a revolutionary fuel-free energy system, plus Robert Stanley's update on FireStorm spark plugs and fuel vaporisation/ignition technologies.
ARCHAEOLOGICAL TRENCH WARFARE
By Philip Coppens. In Glozel, France, in the mid-1920s, discoveries of artefacts believed to date to Gallo-Roman and even Neolithic times led to a bitter battle between archaeologists and amateurs.
UNDERSTANDING UFO SECRECY
By Dr Steven M. Greer. The reason for no official disclosure on UFOs is that the military-industrial complex wants to keep secret technologies to itself.
THE TWILIGHT ZONE
We feature Project Camelot's updated report on physicist "Henry Deacon", with his revelations about alternative timelines, a possible eco-catastrophe to affect the planet and 9/11 as an inside job.
Books
"National Insecurity" by L. Weiss, E. Thurbon and J. Mathews
"Blackwater" by Jeremy Scahill
"The Secret History of the American Empire" by John Perkins
"Genetic Roulette" by Jeffrey M. Smith
"Secrets of the Mysterious Valley" by Christopher O'Brien
"The Starchild Skull" by Lloyd Pye
"Against Religion" by Tamas Pataki
"God Is Not Great" by Christopher Hitchens
"Death of Religion and Rebirth of the Spirit" by J. C. Pearce
"There Is No Time" by John R. S. Peck
"What Really Causes Multiple Sclerosis" by Harold D. Foster
"Colloidal Silver: The Hidden Truths" by Keith F. Courtenay
"The Divine Matrix" by Gregg Braden
"How We Were Made" by William Neil
"Ringing Cedars Series" books 4, 5, 6 by Vladimir Megre
Music
"Putumayo World Party" by various artists
"Gypsy Moon" by Priyo
"Heritage" by Mamadou Diabaté
"La Juderia" by Yasmin Levy
"Alevanta!" by Benjamín Escoriza