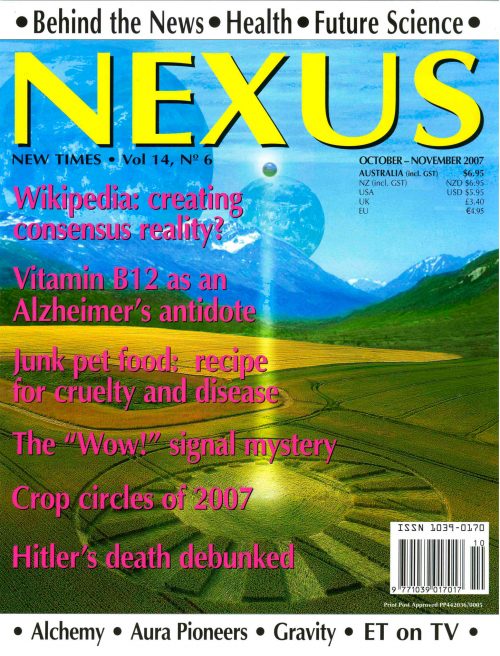 Volume 14, Number 6 – downloadable
$6.60
Volume 14, Number 6 complete issue downloadable pdf file.
Description
LETTERS TO THE EDITOR
Readers' comments on topics including vaccination dangers, aether and consciousness, EFTPOS and TV black-box risks, diabetes reversals and Bible frauds.
GLOBAL NEWS
This edition we report on China's new rules on Tibetan lama reincarnation, Lockerbie evidence tampering, the solar sing-along, cyberwarfare, the militarisation of medicine, and more.
THE TRUTHS AND LIES OF WIKIWORLD
By Philip Coppens. The free online encyclopaedia Wikipedia is a democratically decided database but is open to abuse. Now WikiScanner has uncovered a web of deceit and disinformation.

THE STORY OF HEALER ALFONS VEN—Part 1/2
Interview by Willem de Ridder. Alfons Ven, a Belgian engineer turned homoeopath/alchemist, has endured persecution by the Church, health authorities and the media over his Ven-Cures.
HIGH-DOSE B12 IN TREATING ALZHEIMER'S
By Joseph G. Hattersley. Few medical practitioners know that high-dosage vitamin B12 therapy can prevent and reverse the symptoms of Alzheimer's dementia and other mental illnesses.
JUNK PET FOOD AND THE DAMAGE DONE
By Dr Tom Lonsdale. Pets fed on processed food are afflicted by various cruel, debilitating diseases. Their owners can help by feeding them a natural, chewy diet of raw carcasses or raw meaty bones.
FABRICATING THE DEATH OF HITLER—Part 1/3
By Giordan Smith. What is generally known about the circumstances of Adolf Hitler's demise comes from British MI6 agent Hugh Trevor-Roper. There are many reasons not to believe the "bunker bunk".

SCIENCE NEWS: PIONEERS IN AURA RESEARCH
By Karen Mutton. This e-book extract highlights the visionary investigations of Paracelsus and Reichenbach into the aura as a vital force field.
EINSTEIN'S RELATIVITY: GRAVITY—Part 2/2
By Dr Bjørn J. Øverbye. Einstein attempted to express the forces of nature as geometric equations, but couldn't explain the physical universe in ways that Newtonian, non-relativistic calculations can.
SPECTACULAR SYMBOLS: CROP CIRCLES 2007
Introduction by Andy Thomas. Ingenious patterns, surveillance stories and speculation about this enduring phenomenon marked another intriguing crop circle season in England and overseas.
THE TWILIGHT ZONE
We feature an 1861 article about the paranormal powers of ancient Indian jugglers, and celebrate the 30th anniversaries of the "Wow!" and ET TV signals.
Books
"The Spirit of Water" by Lawrence Ellyard
"The Wisdom of Water" by Alanna Moore
"The New Pyramid Age" by Philip Coppens
"The Mystery of the Olmecs" by David Hatcher Childress
"Talmud Jmmanuel" by Judas Ischarioth
"Blue Mountains Triangle" by Rex and Heather Gilroy
"The Wisdom of the Soul" by Ian Lawton with Andy Tomlinson
"Cornography" by Michael Glickman
"Cancer is a Fungus" by Tullio Simoncini
"Aether: The Transcript" by various contributors
"High & Dry" by Guy Pearse
"Maralinga" by Alan Parkinson
"The Web of Debt" by Ellen Hodgson Brown, JD
"PSI Spies" by Jim Marrs
DVDs
"America – From Freedom to Fascism" by Aaron Russo
"Alien Invasion – Secret Space II " by Christopher Everard
"The Naked Queen" from Rising Dawn Pictures
Music
"Liquid Geometry" by John Consemulder
"La Mandingue" by Empire de la Musique
"eMotive" by various Non Profit Music artists
"Inner Alchemy" by Mary Rodwell, RN
"Latin Jazz" by various artists