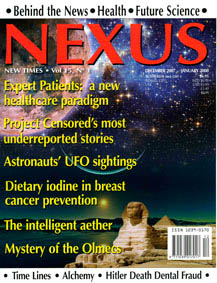 Volume 15, Number 1 – downloadable
$6.60
Volume 15, Number 1 complete issue downloadable pdf file.
Description
LETTERS TO THE EDITOR
Readers' comments on vitamin B12 in Alzheimer's treatment, Hitler's alleged flight to freedom, the harm in Big Pharma and the diet for a healthy pet.
GLOBAL NEWS
We report on vaccinated children being more likely to have ADHD and autism, inaccuracies in Al Gore's climate change documentary, the Great Pacific Garbage Patch morass and much more.
THE TOP 25 CENSORED STORIES OF 2006–07
By Dr Peter Phillips and the Project Censored team. As usual, the US mainstream media underreported many significant national and global news stories in the last 18 months that deserve wider attention.

EXPERT PATIENTS: A NEW HEALTH PARADIGM
By Kathryn Alexander. The three power blocs in the health system are being challenged by Internet-savvy health consumers and "expert patients" who are making the most of their newfound knowledge.
THE IMPORTANCE OF IODINE IN YOUR DIET
By Dr Donald W. Miller. Taken in greater doses than the recommended dietary allowance, iodine has a record of success in reversing fibrocystic breast disease and preventing breast cancer.
THE STORY OF HEALER ALFONS VEN—Part 2/2
Interview by Willem de Ridder. Modern alchemist Alfons Ven tailor-makes remedies that restore the master control system and help people become the healthy, purposeful beings they're meant to be.
FABRICATING THE DEATH OF HITLER—Part 2/3
By Giordan Smith. In identifying dental remains as belonging to Adolf and Eva Hitler, several German dentists may have been complicit in a fraud to fool Stalin that the corpses had actually been found.

SCIENCE NEWS: TIME LINES & DISTORTIONS
By David Barclay. If we're looking at colonising the Moon, Mars and other planets, we need to factor in the problem of time-line differentials.
THE COSMOLOGICAL-CONSTANT PROBLEM
By Ron Pearson. Big Bang inaccuracies and relativity inconsistencies are resolved in this theory that incorporates "i-ther" as an intelligent substrate and interactions of positive and negative energies.
THE MYSTERY OF THE OLMEC CIVILISATION
By David Hatcher Childress. The Olmecs of Central America left behind sculptures with African, Oriental and European features, suggestive of influence from ancient transoceanic contacts.
THE TWILIGHT ZONE
Jim Marrs reports on American astronauts who have seen UFOs, and we reveal conversations between Apollo crew members and mission controllers covering UFO activity and structures on the Moon.
Books
"Pioneers of the Aura" by Karen Mutton
"The Light Revolution" by Richard Hobday, PhD
"Time Stands Still" by Keith Critchlow
"Land of the Gods" by Philip Coppens
"Everything You Know About God Is Wrong" ed. by Russ Kick
"God Save Us From Religion" by Ian Ross Vayro
"Take Control of Your Health…" by Elaine Hollingsworth
"The Power of Being" by Alfons Ven
"The Palm Oil Miracle" by Bruce Fife
"Dietary Healing" by Kathryn Alexander
"The Last Supper" by Philip Willan
"The Coronado Island UFO Incident" by Evans and Dennett
"Global Warming" by Mitch Battros with Tony Stubbs
"Creation Solved?" by Ron Pearson
DVDs
"The Great Global Warming Swindle" from Wag TV
"The Harmonic Code" with Bruce Cathie, from Destiny Pictures
"Contact Has Begun" with James Gilliland, from DCT
Music
"In the Key of Earth" by Marjorie de Muynck
"The Moola Mantra" by Deva Premal
"Gypsy Caravan" by various artists
"Messages from the Womb" by Kate Street
"Unlocking the Secrets of 2012" by John Major Jenkins