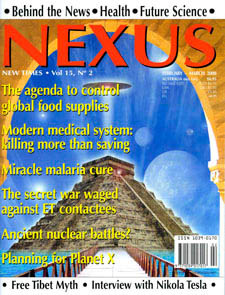 Volume 15, Number 2 – downloadable
$6.60
Volume 15, Number 2 complete issue downloadable pdf file.
Description
LETTERS TO THE EDITOR
Our readers comment on Bali bombing subterfuge, dreams of an asteroid strike, pyramid construction insights, Wikipedia bias, ancient giants, and more.
GLOBAL NEWS
We report on the dumping of Australia's proposed ID card, revelations from a former Italian president on 9/11 as an "inside job", food supply as the next global crisis, WiFi linked to autism, and more.
SOWING THE SEEDS OF DESTRUCTION—Part 1
By Stephen Lendman. This review of Bill Engdahl's book shows how the Green Revolution laid the groundwork for the Gene Revolution and allowed a handful of agribusiness giants to control our food.

A MIRACLE TREATMENT FOR MALARIA
By Jim V. Humble. A formula has been developed that can overcome malaria symptoms in just hours and has healing properties that can help against AIDS and various immunosuppressive diseases.
DISEASES CAUSED BY THE MEDICAL SYSTEM?
By Walter Last. Pharmaceutical drugs, medical treatments and ill-informed decisions have played a role in modern-day epidemics of diseases including cancer, asthma, diabetes and obesity.
FABRICATING THE DEATH OF HITLER—Part 3
By Giordan Smith. The British used the Hitler suicide story as a weapon of psychological warfare to discredit National Socialism and stifle the German people's will to resist foreign occupation. "
FRIENDLY FEUDALISM & THE FREE TIBET MYTH
By Michael Parenti. The old Tibet was a feudal theocracy where ordinary Tibetans were treated cruelly by lamas and landlords and forced to accept their misery as karmic atonement.

SCIENCE NEWS
This issue we feature an interview published in August 1917 with genius inventor Dr Nikola Tesla on a means to detect and combat submarines.
THE SECRET WAR ON ET CONTACTEES
By Dr Michael E. Salla. Since as long ago as the 1950s, US intelligence agencies have operated covert programs to debunk, discredit and neutralise witnesses who claim encounters with space aliens.
REFLECTIONS ON WORLDS BEFORE OUR OWN
By Brad Steiger. Anomalous artifacts that tell of a much older date for human origins, and vitrified stone structures showing evidence of ancient nuclear wars, still defy established interpretations.
THE TWILIGHT ZONE
We reprint extracts from letters written by an anonymous Norwegian politician on underground bases in Norway, preparations for the alleged flypast of Planet X in 2012, and warnings for our future.
REVIEWS—Books
"Lost Lands, Forgotten Realms" by Dr Bob Curran
"The Journey of Robert Monroe" by Ronald Russell
"Ten Years" by Roseanne Catt
"The Cosmic War" by Joseph P. Farrell
"Starwalkers and the Dimension of the Blessed" by W. Henry
"Sacred Symbols of the Dogon" by Laird Scranton
"Peak Everything" by Richard Heinberg
"Animal Pharm" by Mark Purdey
"Isaac Newton's Freemasonry" by Alain Bauer
"The Mystery of 2012" edited by Tami Simon
"Understanding Humans, Extraterrestrials…" by Gary Opit
"'Things' and More 'Things'" by Ivan T. Sanderson
"Tears in Heaven" by Ian Ross Vayro
"The Papal Billions" by Tony Bushby
DVDs
"The Silent Revolution of Truth" by Lightsource Entertainment
"Secret Mysteries of America's Beginnings – vols 1 & 2 – The New Atlantis and Riddles in Stone" by Antiquities Research
Music
"Urban Mantra" by various artists
"Think Global: Women of Africa" by various artists
"Soul in Wonder" by Miten with Deva Premal
"Zarambeques" by Armoniosi Concerti with Juan Carlos Rivera
"Na Afriki" by Dobet Gnahoré