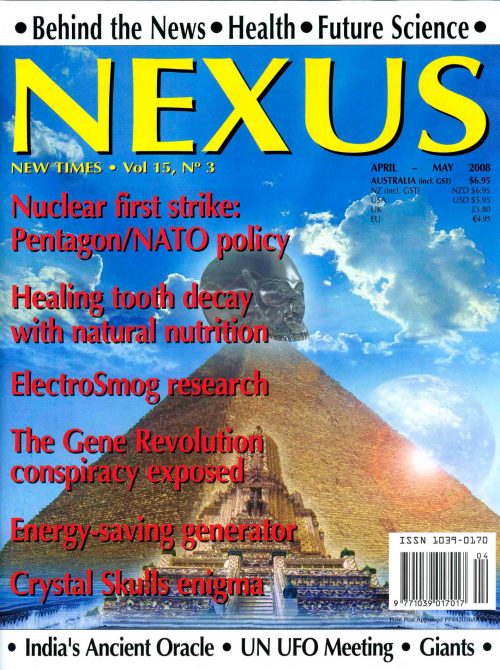 Volume 15, Number 3 – downloadable
$6.60
Volume 15, Number 3 complete issue downloadable pdf file.
Description
Readers' comments on the tsunami that's overdue for Australia's east coast, revelations about the Olmecs, the cause of disappearing bees and more.
SCIENCE NEWS
This issue we feature Canadian inventor Thane Heins's Perepiteia Generator which has been shown to accelerate, not slow down, under load.
REVIEWSBooks
"Cure Tooth Decay" by Ramiel Nagel
"Let Food Be Your Medicine" by Marguerite Henshaw
"Life from Light" by Michael Werner & Thomas St'_ckli
"Choosing Not to Immunise Our Children" by Dale Frazer, DO
"Think of an Elephant" by Paul Bailey
"The Hidden Oracle of India" by Andrew and Angela Donovan
"The Golem: A World Held Hostage" by Michael Collins Piper
"Turning the Templar Key" by Robert Lomas
"Spiritual Technology of Ancient Egypt" by Edward Malkowski
"Raising Stone 1" by Paul Hai
"Oil Apocalypse" by Vernon Coleman
"Scared to Death" by Christopher Booker & Richard North
"The Big Book of Near-Death Experiences" by P.M.H. Atwater
"Mysteries and Secrets of Time" by Lionel & Patricia Fanthorpe
REVIEWSDVDs
"NEXUS Conference 2007" produced by E&E Productions
"NEXUS: The First 20 Years" produced by NEXUS Magazine
REVIEWS Music
"Lost Canyons" by Scott August
"Afriki" by Habib Koit'é & Bamada
"The Way Home" by Sacred Earth
"Dial M for Mantra" by Jai Uttal
"The Rough Guide to Bollywood Gold" by various artists