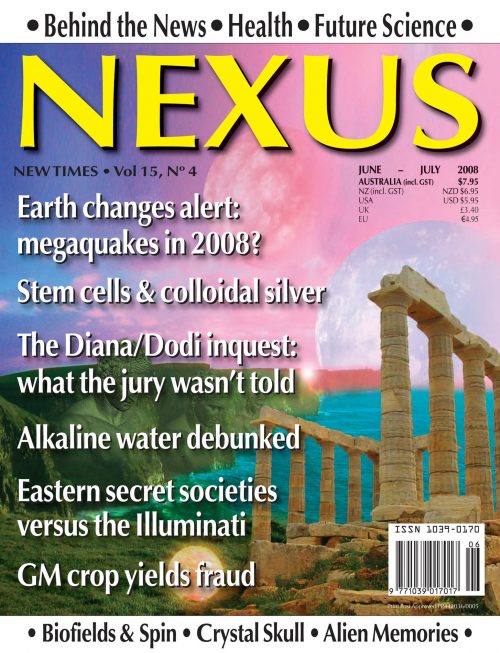 Volume 15, Number 4 – downloadable
$6.60
Volume 15, Number 4 complete issue downloadable pdf file.
Description
LETTERS TO THE EDITOR
Readers discuss a possible link between GM food and Morgellons disease, sand circles in the Afghani "Empty Quarter", and research into colloidal silver.
GLOBAL NEWS
We report on FoIA findings on fudging the Iraq–Iran territorial water boundary, research that exposes the high-yielding GM crops myth, an overdue Earth pole shift, and Pentagon plans to target Iran.
AN EASTERN ULTIMATUM TO THE WESTERN ILLUMINATI—1/2
Benjamin Fulford interviewed by Project Camelot. This finance expert exposes the murder, mayhem and money scams behind the alleged Eastern secret societies' final warning to Western powerbrokers.
DEBUNKING THE BENEFITS OF ALKALINE WATER
By Jan Roberts. The notion that alkaline water can cure a host of illnesses is refuted by evidence that it can cause health problems as a result of stomach acid production going into overdrive.
UNRESOLVED ISSUES OF THE DIANA AND DODI INQUEST
By John Morgan. The verdicts from the inquests into the deaths of Diana, Princess of Wales, and Dodi Fayed leave many questions unanswered as to what really happened in the Alma Tunnel.
STEM CELLS: THE SILVER CONNECTION
By Marvin-Lee Robey. Silver has an ancient history in preventing and treating disease, and modern formulations may help the body make its own stem cells and direct them to where they're needed.
PLANETARY EFFECTS ON THE SUN AND THE EARTH
By Kenneth W. Dickman. Specific angular alignments between the Sun and its planets create resonances that can have violent impacts on Earth.
THE BIOFIELD: A DIFFERENT TYPE OF MAGNETISM?
By Dr Buryl Payne. A rotational field found around organisms varies with changes in geomagnetic activity and may be a fundamental force in its own right that helps create complex forms.
SCIENCE NEWS
This issue we feature the Watercone®, which has great promise as a cheap and portable desalination system, and Peter Davey's Sonic Resonance Boiler, whose high efficiency has stumped the experts.
THE MITCHELL-HEDGES CRYSTAL SKULL MYSTERY
By Philip Coppens. The account of how the famed Mitchell-Hedges crystal skull was discovered in 1924 in the ancient Mayan city of Lubaantun was probably a cover story to hide a maze of intrigue.
THE TWILIGHT ZONE
This edition, veteran paranormal investigator Brad Steiger recounts the memories and dreams of people convinced they once lived on alien worlds. Reports describe escaping from home planets during war and cataclysm, as well as Earth-seeding missions.
REVIEWS—Books
"The Wisdom of Water" by John Archer
"A Miraculous Health Substance" by Marvin-Lee Robey
"The Electric Universe" by Wallace Thornhill & David Talbott
"Decoding the Human Body-Field" by P. Fraser & H. Massey
"Iodine: Why You Need It…" by David Brownstein, MD
"Practicing Medicine Without A License?" by Owen Fonorow
"Overthrow a Fascist Regime on $15…" by Wayne Madsen
"The True Story of the Bilderberg Group" by Daniel Estulin
"The Grail Enigma" by Laurence Gardner
"Cover-up of a Royal Murder" by John Morgan
"Eye of the Phoenix" by Gary A. David
"The Orb Project" by Míceál Ledwith and Klaus Heinemann
"Secrets of the Unified Field" by Joseph P. Farrell
"Prodigal Genius: The Life of Nikola Tesla" by John J. O'Neill
REVIEWS—DVDs
"Timewave 2013" by Sacred Mysteries Productions
"Lady Die" by Chris Everard and Raphaella Houston
"Understanding MMS" by Phaelos Mediawerks
REVIEWS—Music
"The Idan Raichel Project" by Idan Raichel
"The Rough Guide to Congo Gold" by various artists
"One" by Jamshied Sharifi
"Om Guitar" by Stevin McNamara
"Jidka (The Line)" by Saba