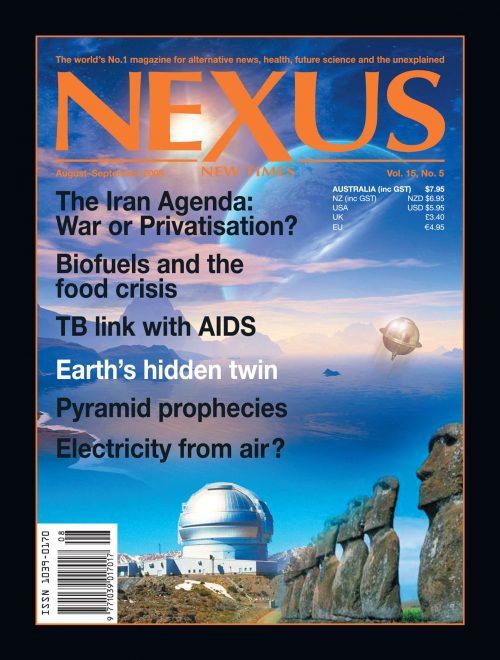 Volume 15, Number 5 – downloadable
$6.60
Volume 15, Number 5 complete issue downloadable pdf file.
Description
LETTERS TO THE EDITOR
Readers discuss AIDS myths, media blackouts on 9/11 truth, colloidal silver production, gravitational time mechanics, orb experiments and more.
GLOBAL NEWS
We report on Russia as the world's biggest oil producer, Earth's rapidly changing magnetic field, fructose linked to obesity, and a leaked World Bank report on biofuels causing the current food crisis.
IS THE WAR AGAINST IRAN ON HOLD?
By Prof. Michel Chossudovsky. While Iran ramps up its privatisation of state industries, the USA is threatening sanctions against Iran. Is Iran aiming to outmanoeuvre the USA and prevent all-out war?
AN EASTERN ULTIMATUM TO THE WESTERN ILLUMINATI— Part 2
Benjamin Fulford interviewed by Project Camelot. This finance expert rejects the notion that a small western elite should rule the planet, and suggests a way to eliminate poverty and save our ecosystems.
DO TUBERCULOSIS-TYPE BACTERIA CAUSE AIDS?
By Dr Alan Cantwell. Whether HIV is a virus and causes AIDS is still hotly debated, but for full-blown AIDS to arise there must be a co-factor present such as tuberculosis-related mycobacteria.
AN ORMUS MANIFESTATION
By Barry Carter. Powerful ORMUS elements can be extracted simply and have many benefits, from increasing crop yields and saving the environment to expanding human consciousness.
EARTH'S HIDDEN TWIN AND THE BIRTH OF CIVILISATION
By Dr Valery Uvarov. Ancient records suggest that Earth has an orbital counterpart obscured by the Sun, and that this planet may be home to advanced beings who seeded several of our civilisations.
SCIENCE NEWS
This issue we feature Philip Hardcastle's new take on thermionics and his concept for a method of producing electricity from heat without an exhaust.
CELESTIAL PROPHECIES AND THE GREAT PYRAMID—Part 1
By Tony Bushby. The Great Pyramid was said by ancient authors to have been old long before the other pyramids were built, and it was once covered with casing stones that told of cataclysms to come.
SUSPECTED ALIEN IMPLANTS UNDER THE MICROSCOPE
By Dr Roger Leir. Unusual objects, surgically removed from people who claim to have been abducted by aliens, have been tested in high-tech laboratories, and most of them defy explanation.
THE TWILIGHT ZONE
This edition, we feature an open letter to French President Nicolas Sarkozy by several authors, headed by French Navy Rear Admiral Gilles Pinon, requesting action on a strategy to handle UFOs.
REVIEWS—Books
"Powers of the Sixth Sense" by Jock Brocas
"Secret Agent 666" by Richard B. Spence
"Supervolcano" by John Savino, PhD, and Marie D. Jones
"How to Survive 2012" by Patrick Geryl
"The United Symbolism of America" by Robert Hieronimus
"Quantum Shift in the Global Brain" by Ervin Laszlo
"AIDS: The Crime Beyond Belief" by W. Scott and D. Scott
"Nutrition and Physical Degeneration" by Weston A. Price
"The Christ Scandal" by Tony Bushby
"Rogue Economics" by Loretta Napoleoni
"Secrets of Antigravity Propulsion" by Paul LaViolette, PhD
"Flying Saucers and Science" by Stanton T. Friedman, MSc
"The Crystal Skulls" by D. H. Childress and S. S. Mehler
"Crystal Skulls: Interacting…" by Jaap van Etten, PhD
REVIEWS—DVDs
"The Rise and Fall of a Scientific Genius" by Zero Zero Two
"American Drug War" by Sacred Cow Productions
"Walking Softly with Koa – Part 2" by Walk Softly Prodns
REVIEWS—Music
"Alive" by Sa Dingding "Lullaby for My Favourite Insomniac" by Ahn Trio
"The Rough Guide to Indian Lounge" by various artists
"Umalali: The Garifuna Women's Project" by various artists